04 Jul 2023
Australia's Largest Construction Companies [2023 Updated List]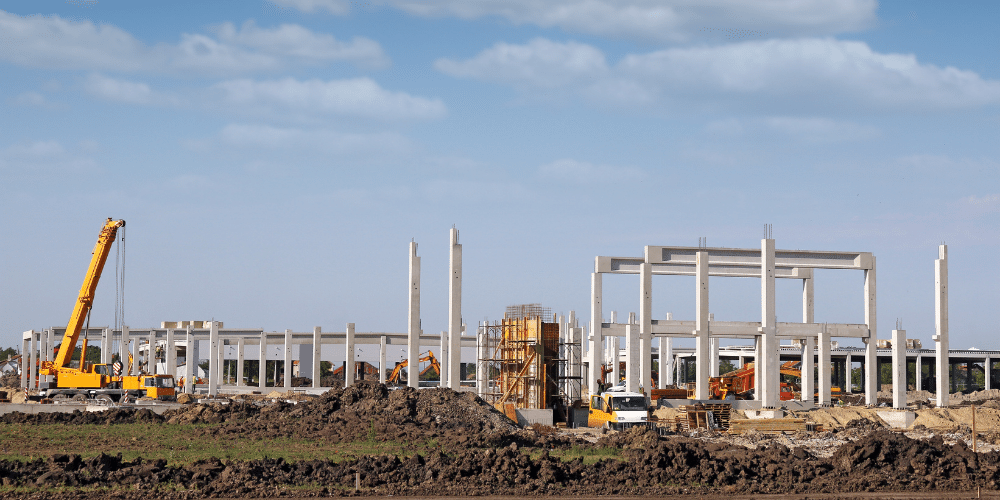 Australia's Construction Industry is focused primarily on construction, rennovation, demolition, maintenance or repair of building and infrastructure. It covers a vast range of services from wall instalation to surveying. The Construction industry is Australia's 2nd largest contributor to the Australian Economy (behind Services) contributing 7.4% of overall GDP. It also employs 9.2% of the Labour force.
So who are the big Australian companies shaping the industry? We've compiled a list of some of the top companies in Australia. Our list comes primarily from Construction Global and we've included detailed information on their background.
The Top 20:
Lendlease
Downer
CIMIC Group
Laing O'Rourke
John Holland Group
Thiess
CPB Contractors
Multiplex
Hutchinson Builders
Built
Fulton Hogan
Acciona
Deicorp
BMD Constructions
Hansen Yuncken
BESIX/Watpac
Kane Constructions
Mirvac
Georgiou
Hickory Group
Lendlease
Lendlease Group is a multinational construction, property and infrastructure company headquartered in Barangaroo, Sydney, Australia. The Construction segment provides project management, design and construction services, predominantly in the defence, mixed use, commercial and residential sectors.
The Investments segment includes a leading wholesale investment management platform and also includes the Group's ownership interests in property and infrastructure coinvestments, Retirement Living and US Military Housing.
Downer Group
Downer Group is an integrated services company active in Australia and New Zealand. Listed on the Australian Securities Exchange and New Zealand Stock Exchange as Downer EDI, Downer is an ASX 200 company.
Downer Group employs approximately 33,000 people across more than 300 sites, primarily in Australia and New Zealand, but also in the Asia-Pacific region, South America and southern Africa.
CIMIC Group
CIMIC Group Limited is an Australian construction contractor. It is active in the telecommunications, engineering and infrastructure, building and property, mining and resources, and environmental services industries. It has operations in Australia, Southeast Asia, New Zealand and the Middle East.
CIMIC Group comprises our construction businesses including CPB Contractors, Leighton Asia and Broad, our mining and mineral processing companies Thiess (joint control) and Sedgman, our services specialist UGL and our infrastructure development company Pacific Partnerships – all supported by our in-house engineering consultancy EIC Activities. We also have an investment in Ventia, one of the largest essential services providers in Australia and New Zealand.
Laing O'Rourke
Laing O'Rourke is a multinational construction company headquartered in Dartford, England, United Kingdom. It was founded in 1978 by Ray O'Rourke. It is the largest privately owned construction company in the United Kingdom.
Laing O'Rourke is an international engineering enterprise, founded on over a century and a half of experience. Through their fully integrated offer we are delivering a single-source solution for some of the world's most prestigious organisations.
John Holland Group
John Holland is Australia and New Zealand's leading end-to-end integrated infrastructure, building, rail and multi-modal transport company. Headquartered in Melbourne, it is a subsidiary of China Communications Construction.
Designing, engineering, constructing, and operating services across Australia and New Zealand, they connect people to the places they want to go – and to each other.
Thiess
Thiess Pty Ltd is an international mining services company based in Brisbane, Australia. Established in the 1930s as Horn & Thiess, the company later became Thiess Bros and Thiess Contractors before being bought by Leighton Holdings in 1983 to become part of the CIMIC Group.
CPB Contractors
CPB Contractors is the Australasian construction company of the CIMIC Group.
Combining the construction expertise and track record formerly delivered by Leighton Contractors and Thiess, along with the people and projects of Leighton Asia and subsidiary Broad Construction.
Working closely with clients and partners, projects connect communities, play a key role in urban and rural development, help drive economic growth and provide vital long-term infrastructure.
Multiplex
Multiplex is an international construction contractor founded in Australia and currently headquartered in London, England.
Established in Australia in 1962, they have delivered over 1,100 projects around the world, with a combined value in excess of US$100 billion.
Hutchinson Builders
Hutchies has been building the structures in which Australians live, work, study, shop and play since 1912. From their early beginnings, they have grown into a dynamic and diverse construction company, delivering sophisticated projects across a comprehensive portfolio.
They have a national presence that stretches from Darwin to Hobart and Cairns to the Pilbara in the West. Their philosophy is to follow their clients' needs, building not just in big cities but also in the most remote regions of Australia.
Built
Proudly Australian and privately owned since 1998, Built has grown to be a national diversified general contractor and one of Australia's largest private construction groups. They have built our reputation on being the most responsive, client focused partner in the industry with extensive tier one and large corporation experience.