08 Nov 2021
Woods Bagot Designs Prefabricated High School for Sydney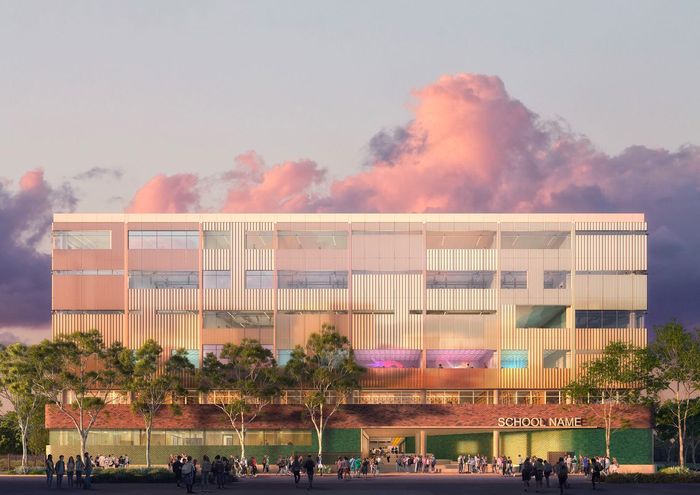 The first drawings for a new high school in Western Sydney have been revealed. It will be built on a former intertidal mudflat region.
The Sydney Olympic Park high school, designed by Woods Bagot, will be built on Wangal property near the northern extremity of Wentworth Point, on the Parramatta River's southern bank. It will be delivered in two stages, with the first serving 850 pupils and the second serving 1,530 kids. A single six-story building will house classrooms, while a sports and entertainment hall is envisaged to the north of the site.
For both rounds of the development, a state-significant development application has been submitted. According to the planning documents, there will be adequate open play space on the school's grounds to accommodate the pupils in the first stage, but that extra play space would most likely be needed once all 1,530 students have arrived. A play space of 8,800 square metres is proposed next to the school, with access to the four-hectare Wentworth Point Peninsula Park.
The school will be constructed utilising the Design for Manufacture and Assembly method, which means that much of the structure will be produced in a factory and then assembled on site. Modular components will be used to outfit two equal wings of contiguous classroom space based on an uniform structural grid and floor-to-floor height.
Wood Bagot explains how the school is designed to be as low as possible to connect pupils to the ground level, while also optimising accessible play area and respecting the sight corridor that connects Burroway Road to the river and parklands.
The school will be anchored by a stone base that "visually and physically locks the school to its site." Each floor is distinguished by a different colour, ranging from "translucent pale blue" to "stormy indigo," with the colour spectrum honouring the river and scenery while also functioning as a navigational aid.
"Textured, subtly reflective metal screens change in response to the shifting colours and patterns of the sky," Woods Bagot notes.
"The composition seems at first random, but the observer will find their own meanings and connections – as we do in the clouds."
Construction is scheduled to begin in mid 2022, with completion expected in 2023.