07 Oct 2022
Winning Design Chosen for Parramatta Riverfront Precinct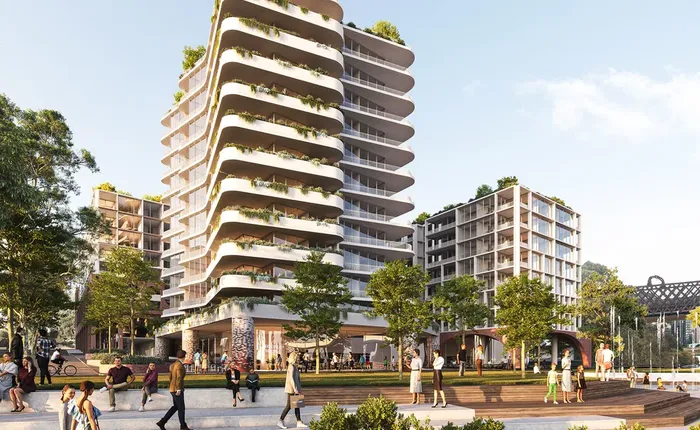 A design competition for 25-27 Leeds Street in Rhodes East, a section of the Parramatta River shoreline slated for revitalisation, was won by SJB and Land and Form Studios.
With low- to mid-rise structures that interact with the foreshore park, together with waterfront promenades and green pedestrian links, the project will be centred on creating a connection to the river.
In a competition held by officials from the City of Canada Bay Council, the NSW government architect, and Nation Architects, the design by SJB and Land and Form was chosen from a group of three designs. A "biophilic and permeable precinct" that advances the long-term restoration of the larger Rhodes area is a key component of the winning design.
"We're breathing new life into the Parramatta River foreshore to make it greener, more accessible and more attractive," said John Kinsella, managing director of developer Billbergia. "The project will deliver 6,000 square metres of public open space, including a retail and dining precinct and will open up the waterfront promenade with an interactive river edge for the community to enjoy."
Having finished the initial vision for the Rhodes area's rehabilitation in 2005, SJB claimed to have a "long-running connection" with the region. Rhodes Central, the neighborhood's retail hub and the first of three stages in the NSW government's transformation of Rhodes from an industrial peninsula to a completely regenerated suburb, was the most recent mixed-use structure the studio created for Rhodes.
The plan for Leeds Street will integrate the public domain geography of the Paramatta River. According to Land and Form director Ro Iyer, "the foreshore design represents this transition from natural to urban, creating an iconic destination that looks to restore and enhance important ecological assets and allow people to actively engage with the Parramatta River, setting a high-quality precedent for the Rhodes East Precinct."
Buildings will be angled to maximise solar gain, with flats facing interior courtyards getting views of the riverside.
Leeds Street is the first phase of the developer's Rhodes East project, which calls for a high-density, low-rise building that enhances the neighborhood's current infrastructure.