23 Feb 2023
Western Sydney Industrial Complex Approved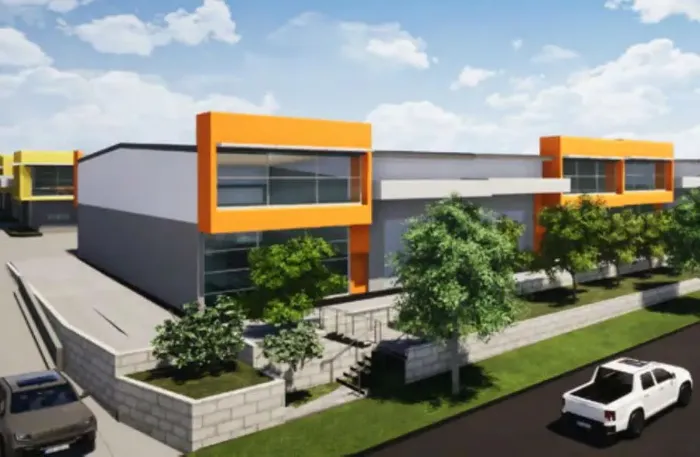 A western Sydney builder-developer submitted concept plans for 58 light industrial units on roughly 5 acres of unoccupied land in the developing Hills Shire Council, and the plans were accepted by a New South Wales joint regional planning panel.
The light industrial units are merely the first step of MDS Commercial Developments' four-stage plan, which is expected to cost roughly $60 million to build.
The independent planning committee has accepted the designs for the two-story units on two sites at 277-279 Annangrove Road, Rouse Hill, roughly 35 km north-west of Sydney's CBD, under the initial stage, which will cost about $21 million.
Together with the creation of a new internal road network, the plans also call for civil work to enlarge Outback Street and Limestone Road at the site's perimeters. The two lots will be divided into six allotments in the first stage, with space for 118 cars to park.
The double lot was made in January 2020 after the then-owners were granted permission to divide five lots of semi-rural terrain.
According to online records, lots three and four were purchased for $14 million in June of last year by Annangrove Land Holdings Number Two. The management of MDS and Annangrove Land is the same.
The concept plan's further three stages will transform it into an integrated commercial and light industrial development and add a four- to five-story office complex with a total floor area of roughly 33,500 square metres. The complex will eventually have more than 1000 car parking spaces.
BHI Architects created the concept designs.
The construction will take place at a time when industrial land for warehouses and last-mile logistics is extremely scarce.
The original application materials were submitted by Sutherland and Associates Planning, who stated that the region was "likely to undergo rapid transformation over the coming years".
Without a doubt, the Annangrove Road region in the Hills shire's north-west is quickly developing into a desirable neighbourhood for the sector. Self-storage is one of the developing industries for both goods and services to the south of the intended development. Future development lots with comparable zoning are located directly to the north, east, and south.
Presida Constructions, a private developer headquartered in north-west Sydney, recently submitted designs for their own Annangrove Road warehouse complex.
Presida is requesting a three-story complex with warehouse space along with offices, a showroom, and a cafe in documents submitted to Hills Shire Council.
Since 2004, numerous development proposals have been submitted for the 16,600 square metre, irregularly shaped land with approximately 126 metres of frontage on Annangrove Road, all for "industrial warehouses and associated offices."
One of those applications was approved, and a 1000 square metre warehouse was constructed. To fit into the new complex, it will be kept and further altered.
With the retained structure included, the new facility's total floor space will be around 15,225 metres. A total of 5816 square metres will be devoted to warehouse space, 3755 square metres to showrooms, 5500 square metres to offices, and 155 square metres to a cafe.
An estimate for construction expenses is just about $29 million.
In the ground and lower ground levels, 41 tenancies will be available. The MSK Architects plan includes a ground-level cafe with 40 seats as well.
A four- to five-story office complex with a total floor space of around 33,500 square metres will be added as part of the concept plan's last three stages, which would convert it into an integrated commercial and light industrial development. Almost a thousand parking spaces will eventually be available at the site.
The concept designs were made by BHI Architects.
At a time when industrial land for warehouses and last-mile logistics is exceedingly rare, construction will occur.
---
Attend Sydney Build Expo, the largest construction, architecture and infrastructure show in Australia. Gain access to 9 conference stages and networking sessions, check out 400+ exhibitors, learn from 450+ high-profile speakers and connect with 20,000+ built environment professionals.