24 Oct 2022
VIC Government to Build Australia's Largest Hospital Project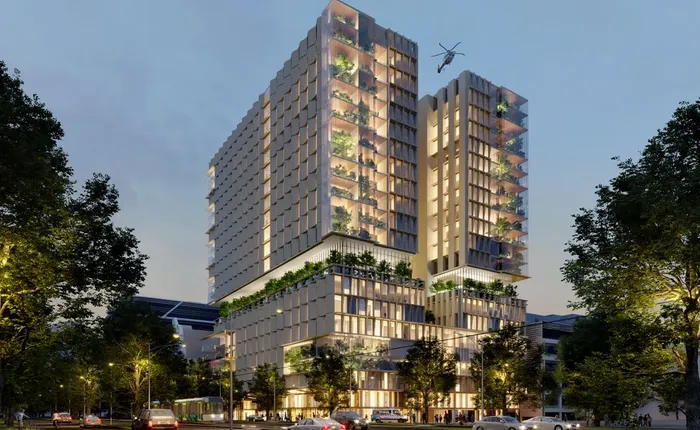 The construction of a medical mecca housing the Royal Melbourne and Royal Women's hospitals by the Victorian government will result in the completion of Australia's largest hospital project in history.
The Royal Melbourne and Royal Women's hospitals in Parkville will be renovated and expanded as part of the Hassell and McBride Charles Ryan project, which will also see the construction of a new biomedical zone in the nearby Arden neighbourhood.
The medical precinct will be developed near to the new Arden train station, and the Metro Tunnel will connect the precincts in Parkville and Arden. When finished, Melbourne's Suburban Rail Loop will link the locations to other significant medical facilities, including the Austin Hospital and Box Hill Hospital.
Over a 12-year period, a $6 billion expansion and comprehensive renovation of the current hospitals will provide 1,800 new beds and treatment areas. The Arden precinct is currently under construction.
Leanne Guy, Principal at Hassell and Health Sector Leader, claimed that the redevelopment will assure the continued viability of the current facilities into the future while establishing a new precinct to meet the demands of the expanding state.
"Together, our team understands how to take the Parkville precinct from where it is to where it wants to be, linking key elements of the existing precinct infrastructure so these two great institutions can fulfil their promising future – a future with endless potential."
Jacinta Allan, Minister of Transportation Infrastructure, stated that the government would assist a stronger health system by providing better transportation options.
"We're also investing in the transport infrastructure we need to make it easier for healthcare workers and patients alike to get where they need to go," Allan said.
Once the new site is finished, planned treatments, such as births and elected surgeries, will be performed there. By the start of the following decade, 10,500 more elective surgeries and 2,500 more births could be accommodated annually.
Once Arden station is finished, construction will begin in 2025 and last for six years. The hospital's first phase will be finished in 2031.
Attend Sydney Build Expo, the largest construction, architecture and infrastructure show in Australia. Gain access to 9 conference stages and networking sessions, check out 400+ exhibitors, learn from 450+ high-profile speakers and connect with 20,000+ built environment professionals.