03 Mar 2022
Urban Renewal Masterplan is progressing in Waterloo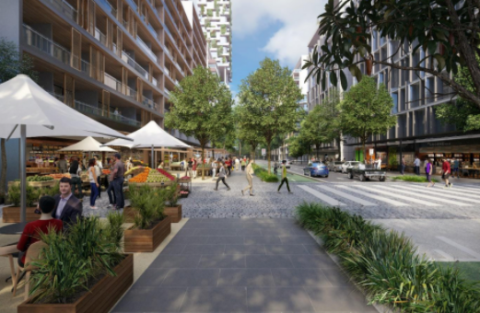 The first stage of Sydney's largest urban regeneration project has come closer to breaking ground.
Waterloo South plans, which include over 3000 residences and were overhauled a year ago to generate more social and affordable housing, have been put on display for community comment.
It's part of the Waterloo State Significant Precinct, a 20-hectare region about 3 kilometers south of Sydney's CBD that has been designated for urban regeneration.
In the region to the east of the new state-of-the-art metro rail station, the Additional South Wales government plans to develop up to 7000 new residences by 2024.
Following the completion of multiple technical studies to ensure urban design, feasibility, and transportation needs were met, NSW Planning and Homes Minister Anthony Roberts said it was an important milestone for the project.
"Introducing this plan to the public is a significant step forward for this vital project, as it addresses the joint needs of the City of Sydney, NSW Land and Housing Corporation, and an independent advisory panel."
"This is one of NSW's most important urban redevelopment projects, and we need to get it rolling as soon as possible," Roberts said.
"If granted, the Waterloo South project will provide outdated social housing a much-needed makeover, as well as thousands of new inner-city residences and more than two hectares of public open space for recreational activities including field sports, cycling, and walking."
In accordance with the independent advisory group's advice, a total of 847 social housing units will be erected, over 100 more than are already on the site.
In addition, around 7% of the projected new dwellings would be set aside for low-income housing.
They will be built in three 30-story high-rise residential complexes, as well as a collection of medium-rise structures ranging from four to thirteen stories, as well as new roadways, retail spaces, and two parks.
After receiving permissions in mid-2021, a similarly scaled mixed-use zone named Waterloo Metro Quarter is expected to develop above the new metro station. Mirvac is in charge of the project, which will have three over-station towers, a podium, shops, community services, and public plazas.
On a vacant 3.5ha former Waterloo industrial site, Chinese real estate firm Dahua Group has submitted designs for a $220 million residential masterplan that includes a cluster of residential structures around a central square.