17 Jul 2023
Tunnel Fit-out Transforming Cross River Rail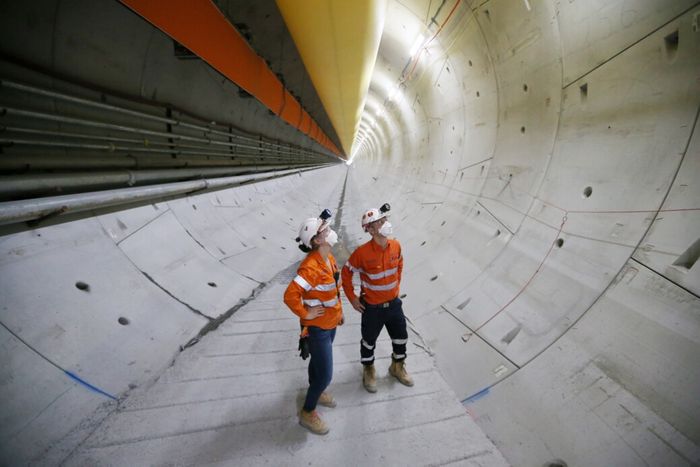 Underneath Brisbane progress is underway on the next phase of works in Cross River Rail's twin tunnels, with workers continuing installation of necessary pipes and cables.
About 180 workers are involved in the tunnel fit-out, which includes installing emergency walkways, pipes and hundreds of kilometres of various kinds of cabling to ensure the safe and reliable operation of trains in the tunnels.
So far, work is underway on around 40 per cent of the 10km of emergency walkways, while 12km of pipes have been installed.
About 18km of feeder cables have been installed to date, which will provide communications coverage through the tunnels, including for mobile phone reception and train signalling equipment.
Hundreds more kilometres of electrical and high-speed fibre optic cables will also be installed, allowing equipment in the tunnels to be installed and operated remotely.
Meanwhile, work is also progressing on the 16 cross passages that link the twin tunnels, with features such as lights, speakers, cameras, smoke detectors and emergency phones being installed.
The cross passages, which connect Cross River Rail's parallel train tunnels every 240m, are an important safety feature that allows people to move from one tunnel to the other in the unlikely event of an emergency.
As the walkway and cable installation moves closer to completion, focus will shift to installation of the overhead electrical system that will supply power to the trains as they travel through the tunnels.
The majority of tunnel fit-out work is expected to be completed in early 2024, which will be followed by extensive testing and commissioning.
Queensland Transport and Main Roads Minister, Mark Bailey, said that with the tracks laid and the mechanical and electrical fit-out of Cross River Rail's tunnels well underway, this transformational project is really coming to life.
"While some people might not realise it's even happening beneath their feet, the important work currently underway in the tunnels will ensure trains can operate reliably and safely," Mr Bailey said.
"Building a new underground rail line is no simple task, and the efforts underway to bring all these complex systems together is a credit to the hundreds of workers involved.
"It's always incredible to see just how much progress is being made, and you can really start to get a sense of what Cross River Rail will look like once complete.
"It's exciting to think that these tunnels will soon make it easier to get around on our rail network, including to our four new underground stations and the year-round station being built at Exhibition."
Source: Infrastructure Magazine
---
Attend Sydney Build Expo, the largest construction, architecture and infrastructure show in Australia. Gain access to 10 conference stages and networking sessions, check out 400+ exhibitors, learn from 500+ high-profile speakers and connect with 35,000+ built environment professionals.