08 Sep 2023
Trimble Technology Improves Workflows for Small Site Contractors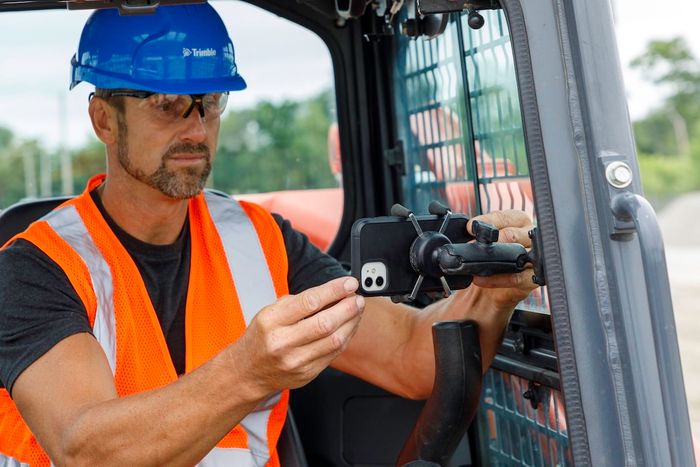 While small contractors may think new technologies are only for the heavyweights of the industry, Trimble's solutions are helping construction businesses level up regardless of their size.

The prospect of construction businesses continuing to work the same way they have for the last 30, 20 or even 10 years is unlikely and, given the relentless rise of challenges both on an industry and economic level, unfeasible. The ongoing labour shortage, the demand for improved productivity and the need to stay competitive are just a few of the difficulties currently sweeping across the construction industry.
Technology is a proven force multiplier, though for small and specialty contractors this may seem more burdensome than beneficial when considering the potential cost, time and disruption of existing legacy workflows. Understanding this, Trimble is working hard to ensure contractors large and small can leverage technology to improve construction workflows.
Every contractor hears buzzwords like office-to-field connectivity, machine control and rovers – solutions that Trimble machine control product manager Jack Young says are designed to plug a hole in business workflows with the promise of productivity improvements.
"Many small contractors might hear these words and think they are just for the big firms, but the reality is that there are a range of solutions continuing to emerge specifically for small site contractors," he says.
"Almost any type of technology deployment will require a workflow adjustment, but most contractors conclude that the productivity achieved is absolutely worth it.
"We hear customers report dramatic changes in their workflow, with technology enabling them to multi-task, leverage the tracked and stored data and run multiple jobs at a time with complete efficiency across the board."
With these positive outcomes in mind, Trimble is making sure that any size business, from family-owned builders to global contracting firms, can benefit from investing in the right technology.
The 2D edge
Often, one of the first big adjustments for a small or specialty contractor is adopting 2D technology, though Young says diving into 3D solutions may be a better option for some businesses in regard to simplicity and productivity.
"It's really about understanding what 2D and 3D are and how they apply to the type of work that you are doing," explains Young. "2D workflows are exceptional for flat work, and contractors have gotten proficient at setting grade with rod guidance, pulling stringlines and then following that guide with pretty good accuracy and quality."
"A 2D workflow works just fine and delivers the capabilities from a productivity standpoint that are needed for that contractor."
For instance, Trimble Earthworks GO! is a solution purpose built for 2D automatics on skid steers with box blades that are commonly used for flat work. The high precision, laser guided 2D grading system utilises an onboard computer and external inertial measurement unit, delivering the fully automatic capability of Trimble's other advanced machine control options at a lower price point and with more simplicity.
"Operators can simply attach the Earthworks GO! box magnetic mount to the machine, connect the cables, mount their smartphone or device in the cab, turn on the laser and start working," says Young. "Among other features, the software saves machine profiles, allowing the operator to easily switch between machine attachments with no extra setups."
It can also be pulled off one machine and hooked up to another machine in minutes.
3D or not to be
For small site contractors working on projects with more complex shapes, Young says they should be looking at 3D technology.
"2D methods do not translate well in these environments, leading to extra work," he says. "Also, owners, architects and engineers are rapidly moving to 3D specifications, and those requirements flow down to the contractor."
Moving to 3D can be confusing from both a hardware and workflow perspective and in some cases overwhelming – with terms like real-time kinematic, point-to-point protocol and correction services coming into play – for small contractors. But the industry is delivering affordable, highly accurate solutions that are easy to use, as well as comprehensive support to make sure the transition to technology is seamless.
For instance, with just one system – the Trimble Siteworks Machine Guidance Module – contractors can perform a range of common activities including site surveys, 3D machine guidance, in-field design and reporting. Designed specifically for small site and utility contractors, it includes the Trimble SPS986 or Trimble R780 GNSS Smart Antenna, both familiar tools in the construction space.
"Contractors can then combine the receiver with any device or Trimble field tablet that supports Trimble Siteworks software to turn it into a multi-purpose field solution," explains Young. "The global navigation satellite system smart antenna can be used on a pole for surveying, and that same system can be transferred to the excavator."
"The antenna attaches to the excavator stick and the data collector moves from the rover pole to a mount in the cab of the excavator."
The Trimble Siteworks Machine Guidance Module was recently launched at CONEXPO CON/AGG in March this year and Young says the response from small contractors was overwhelmingly positive.
Many said the module meant they no longer had to choose between a technology solution on a machine and a technology solution that can be carried out into the field on foot.
Traditionally, those two would have been separated due to various reasons, says Young. One being the rigours that are required for a system to survive on a machine versus the weight at which a system is on a survey rod for a contractor.
"The goal was to leverage a receiver that is designed for the rigours of a machine to provide a two for one system that performs the functionality in the field and the cab," he says. "This means the user no longer has to transfer files manually via USB sticks or emails back and forth – it's all there on the display."
"That resonated a lot with contractors that have experimented with certain technologies that haven't quite worked out for them as they can do it all with one investment."
For businesses without a base station, there are many correction sources provided by government entities, or there are services such as the Trimble RTX family of real-time GNSS correction services. RTX is available via IP/cellular from the user's cell phone hotspot or directly from a satellite.
With the combination of the Trimble Siteworks Machine Guidance Module and RTX, the user can simply attach the components, turn them on and get to work. There's no base station setup or correction source confusion, and the data gathered during layout is automatically available in the cab.
"One of the other advantages of a product like Siteworks Machine Guidance is that it is designed as a stepping stone to future investments," says Young. "It's not something that will be abandoned as technology advances but can be built on and expanded as business needs grow."
Another point to consider is the value of today's technology subscriptions. Trimble is always trying to figure out how technology can assist with resolving the pain points of customer workflows. The company has realised that it needs to be as customisable with the way it offers its products as it is with the way it builds its products. That's why Trimble has introduced the ability for its customers to subscribe to its solutions.
The upfront cost of subscriptions is much less significant for new contractors entering the technology ecosystem. The customer will always have the most up to date systems that Trimble has to offer via those subscriptions, reducing the complexity of technology maintenance that comes with traditional perpetual offerings.
The continuous improvement of applications in the way of features and functionality is also a good reason to have a technology partner to support contractors' adapting workflows, says Young.
Partners and productivity
A reliable dealer partner like SITECH, with a full-time staff dedicated to customer success, is essential in this technology enabled era. A dealer partner can onboard a business's team with new technology investments and also answer questions about capabilities along the way.
"SITECH knows how to take our products and apply them to the specific markets that exist around the world," explains Young. "Because with construction it's not a one size fits all."
For contractors, technology can increase productivity, help significantly reduce rework and better equip businesses to handle work despite labour challenges – all in a safer work environment. With machine guidance solutions, nobody needs to be on the ground near the machine or in a trench. Further, because all of the data is digital, businesses have better information to develop more confident estimates.
"Technology changes the way work gets done," says Young. "You'll be more competitive on bids, more productive in the field and ultimately realise better margins, which drives profits."
The technology is out there to fit all businesses customised workflows, contractors just need to find their technology enabled ecosystem of opportunity.
Source: Inside Construction
---
Attend Digital Construction Australia, Australia's Largest Digital Construction Exhibition. Gain access to 10 conference stages and networking sessions, check out 400+ exhibitors, learn from 500+ high-profile speakers and connect with 35,000+ built environment professionals.