30 May 2023
Testing Underway on Sydney Metro City and Southwest Line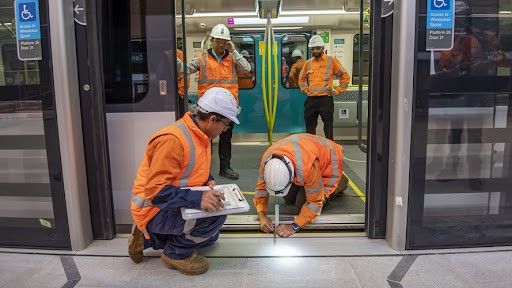 The 15.5km twin Chatswood to Sydenham metro railway lines in Sydney have begun on-track testing to ensure the safe and efficient operation of the metro system before services begin in 2024.
Platform Screen Door interface testing has been completed across all seven new city stations.
This test involves rolling stock engineers checking each door of the train and each platform screen door is a specified distance apart.
Meeting this requirement ensures Sydney Metro provides safe, fully-accessible services for customers with level access between platforms and trains at all stations.
Further testing will validate the performance of the doors under operating conditions.
The other tests include:
Kinematic envelope test, which verifies the safe distance between the top and sides of the train and the tunnel
Testing of brakes, including brake testing on various gradients
'Car-Car Clearance Test' to ensure all curves/turns are passed without issue
Overhead wire and track interface testing
Train recovery, where one train is coupled to a motionless train and moved to a station to simulate the recovery of a failed train.
These tests ensure the correct operation of critical safety functions, and that communication and signalling systems are operating as expected.

Source: Infrastructure Magazine
---
Attend Sydney Build Expo, the largest construction, architecture and infrastructure show in Australia. Gain access to 10 conference stages and networking sessions, check out 400+ exhibitors, learn from 500+ high-profile speakers and connect with 35,000+ built environment professionals.