31 Mar 2023
Sydney Councils Team for '30-Minute City' Masterplan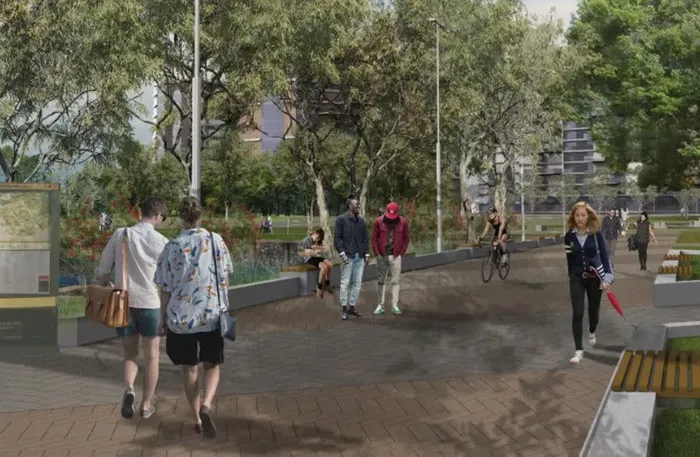 A significant precinct layout for Leppington Town Centre has been unveiled by two Sydney councils in an effort to create a "30-minute city."
The ambitious vision for the town centre, which seeks to build 10,500 dwellings by 2041, was created in collaboration between the councils of Liverpool and Camden.
The NSW Department for Planning and Environment is currently evaluating the precinct.
The 440ha land, which is located in Sydney's South West Growth Region and is shared by two local governments, has "been slow to develop to date."
According to council reports, this was caused by dispersed land ownership and a perceived "lack of a lead developer to establish a town centre."
Liverpool Council approved the Leppington Town Center Review Planning Application in October, and it was then considered at Camden in November before being submitted to the department this year.
With a focus on business and industrial parks and some pockets of medium-density housing, Leppington is mostly an employment-zoned neighbourhood.
According to the councils, the rezoning scheme would transform it into a highly integrated mixed-use Strategic Center Core, assisting in the supply of cultural and recreational services as well as the expansion of residential life.
The proposals also contain 142,000 square metres of commercial, health, communal, and educational floor space in addition to 156,000 square metres of retail space.
The project includes 160,000 sq m of commercial and industrial company floor space, maintaining the area's employment concentration.
The councils seek to use a "density pyramid" strategy, concentrating the areas with the highest densities—up to 28 stories—around the centre at Leppington Station.
The 800m walking catchment is allotted medium to high densities along the periphery and medium densities at the edges.
A two-stage subdivision that will generate 235 residential lots between Camden Valley Way, George Road, and Hulls Road is one of the current developments under construction in the region.
Salvo Property Group unveiled a five-tower project for the area last year, and a greenfield sale in Leppington North will spur additional construction near to the new town centre.
Leppington is to develop into a new strategic centre "growing into a regionally significant transit-oriented centre providing major civic, cultural, recreational, retail, and business service functions," according to the councils.
It will complement the Aerotropolis, another precinct plan that was being evaluated at the end of last year and was anchored by the expansion of Western Sydney Airport and investments in the area's road and train networks. Both are parts of the Western Parkland City area.
The councils recommended that Leppington Town Centre take advantage of the growth of the Aerotropolis Precinct by expanding its role in housing and jobs to "support the concept of a 30-minute city."
"Leppington Town Centre will be a people and lifestyle-focused place, transit-oriented and highly convenient with major shopping, cultural and recreation facilities," according to the councils.
"It will have multiple education and health facilities as well as convenient industrial and urban services space on its fringe to meet the needs of its local community."
The project's public exhibition will begin in April, and the report must be completed by November 2023.
---
Attend Sydney Build Expo, the largest construction, architecture and infrastructure show in Australia. Gain access to 9 conference stages and networking sessions, check out 400+ exhibitors, learn from 450+ high-profile speakers and connect with 20,000+ built environment professionals.