19 Nov 2021
Southport Sharks Reveals Ambitious Boutique Stadium Development Plan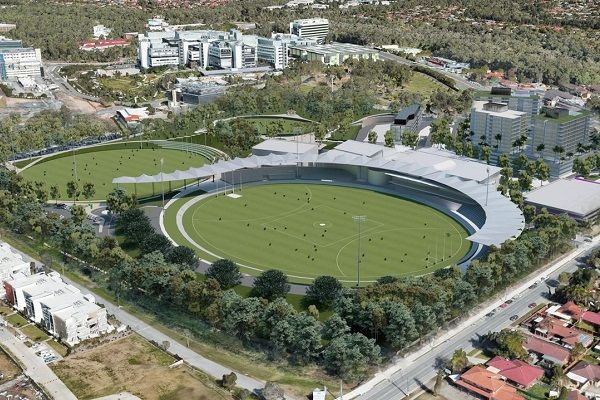 The Southport Sharks have unveiled a new "boutique stadium" as well as a triple-tower residential development, in order to compete in the Brisbane 2032 Olympics.
The Gold Coast squad, which plays in the Victorian Football League (VFL), is planning a stadium that would seat 8,000 to 10,000 people and will serve as an important piece of community infrastructure, tailored to meet the region's rising demands, according to the team.
The Sharks stadium designs were also made by Urbis, despite the fact that the most recent stadium was not mentioned in the official Olympic venues.
The project would be erected on the existing Southport club site on Musgrave Avenue, just north of Griffith University and the Gold Coast Hospital.
A new stadium, female amenities, an outdoor entertainment venue, an aquatic centre, basketball courts, a soccer field, and netball courts were all shown in the masterplan.
On the existing parking, a residential complex with "options" to add build-to-rent, retirement, and affordable housing spanning three buildings would be erected.
The 13.5-hectare location takes advantage of existing transportation infrastructure built for the 2018 Commonwealth Games.
The proposals also suggest new facilities to assist business, events, and broadcasting as a leading sports tech industry, according to Southport Sharks chief executive Dean Bowtell.
"In the lead up to the 2032 Olympic and Paralympic Games, we are very focussed on the opportunity for Southport Sharks to be a cornerstone of Queensland's emerging sports tech sector," Bowtell said.
"We will keep building on our assets and the capabilities of our team, both on and off the field, to partner with other organisations in areas like athlete management, data analytics, wearables, fan engagement, stadium experience, esports and media, to position the precinct as the leading centre for sports tech in Queensland."
Since the outbreak, development on the Gold Coast has accelerated, with property values climbing by $400 per day.
The Azzura Group's 108-story super skyscraper in Southport is one of the city's largest projects.