12 Jun 2023
SJB Designs Apartment Building in Art Deco Precinct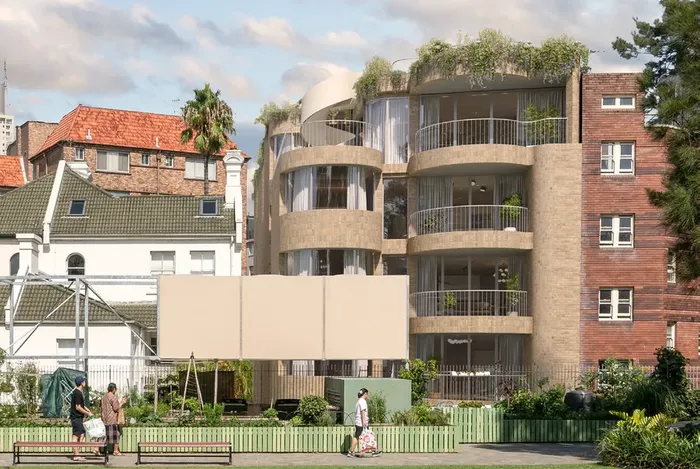 SJB has lodged plans for a five-storey apartment building in Gurrajin (Elizabeth Bay), Sydney that would echo the "evocative" forms of its Art Deco neighbours.
The proposed building at 4 Barncleuth Square would include nine large apartments with two, three and four bedrooms. Located on the corner of Ward Avenue and Barncleuth Square, behind Darlinghurst Road, the property is surrounded by brick apartment blocks built in the 1930s whose facades display an array of unique patterns and textures.
"Playful brick detailing references the facade treatment of its Art Deco neighbours," SJB says of the new buidling, in a design statement.
"The horizontal datums that run throughout Ward Avenue, and especially along the facade of No. 2 Barncleuth and Marlborough Hall, continue in the rounded facades of the proposal."
"Curved solid banding wraps the facade in reference to the Art Deco horizontal datum lines of Ward Avenue. This banding is accentuated by patterned brick coursing and recessive window detailing."
The building meets Ward Avenue with a tripartite of soft, rounded forms, with the middle section featuring open balconies.
"The transparency of its southern edge, allowed through large curved windows, softens its visual intersection with its southern neighbours," SJB states.
"The material palette references the Art Deco tones that underpin the built environment of Elizabeth Bay, in [a] softened, contemporary manner. Pale brick is chosen, in combination with fine steel detailing and lush planting."
Black Beetle is responsible for the landscape design, which includes planting at ground and roof level, with the garden "spill[ing] from the parapet of the roof terrace."
Source: ArchitectureAU
---
Attend Sydney Build Expo, the largest construction, architecture and infrastructure show in Australia. Gain access to 10 conference stages and networking sessions, check out 400+ exhibitors, learn from 500+ high-profile speakers and connect with 35,000+ built environment professionals.