04 May 2022
A Seven-building Retail Precinct Lodged under a $3bn Property Plans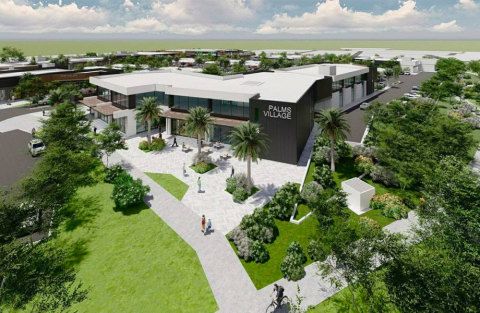 Walker Corporation has submitted designs for a seven-building retail precinct in the heart of its $3-billion Riverlea housing development, which is set to be South Australia's largest master-planned community to date.
Following a boom in house lot sales across the 1200-home masterplanned development in north-west Adelaide in recent months, plans for the $80-million retail zone have been accelerated.
Construction on the retail district, which will feature a daycare center, supermarket, cafés, medical facilities, a pilates class, and a gym, is set to begin later this year pending development permission. In the first half of 2023, the first tenants are scheduled to move in.
Walker Corporation's sole shareholder, Lang Walker, said the decision to move the precinct's first retail center ahead was taken after the business sold 700 home and land packages in just over a year, more than double what was expected.
"Young couples and families are relocating from established suburbs with the desire to bring a focus on wellness and health with them, and that enthusiasm matches well with our big vision for Riverlea," Walker said.
"The north is changing quickly, and these families are discovering that they can acquire a four-bedroom house on a huge property with room for kids and a dog for a wonderful price at Riverlea, when they are finding it difficult to get a two-bedroom flat in the southern suburbs."
Walker's Riverlea project, which has been in the works for about 15 years and is set to open in early 2021, might take at least two decades to complete.
The developer gradually gathered more than 1300ha of land for the greenfield project through a series of acquisitions.
After the neighboring Gawler River burst its banks and swamped the neighborhood in 2016, the project has been slammed for its flood risk.
The flood-risk debate, according to Walker, prompted substantial internal corporate discussion and development on remedies, notably the 50-hectare lake system.
On behalf of Walker Corporation, 13 builders are now constructing the masterplanned estate, which will have four retail districts, 420 acres of open space, and 50 kilometers of biking and walking trails when completed.
House and land packages ranging in size from 300sq m to 1000sq m were offered for $310,000 at the time of launch.
According to Walker, one of the key catalysts for the developer's continued lot sales was Adelaide's affordability compared to Sydney and Melbourne.
"One of the encouraging patterns we're seeing is a migration to Riverlea from all around Adelaide," Walker said.
"As a result of this tendency, many from the south are now seeking for a new home in the north."
Adelaide is quickly becoming one of Australia's most attractive capital cities, with property prices rising at the fifth fastest rate in 2021.
Following a -0.2% peak-to-trough drop in values at the start of the epidemic, the city's property prices soared by 25% last year, with the median price reaching $590,000.
Walker s is now working on a variety of high-profile projects, including the masterplanned estate.
Walker's holdings include office towers in Sydney and Melbourne, a 30,000-lot greenfield housing land bank across Australia, three large housing estates under construction in Malaysia, and Kokomo, a high-profile private island resort in Fiji.
The $2.7 billion Parramatta Square makeover, which comprises four towers, premium-grade office space, a multi-level retail platform and civic building, as well as a university campus, is also nearing completion.