05 Jan 2023
Sekisui's $550m Plan at Wentworth Point Approved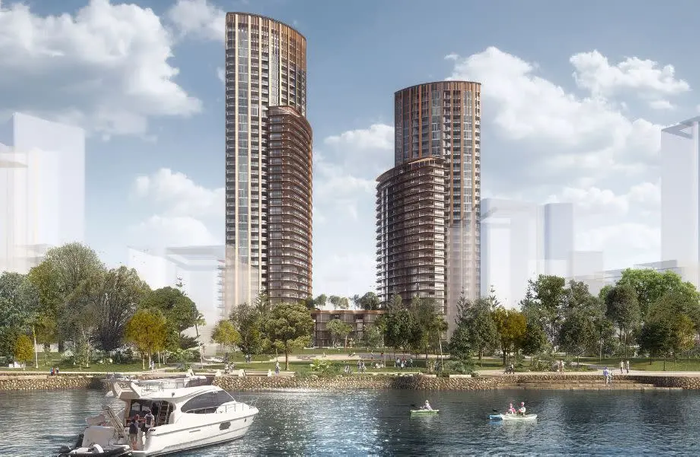 The next stages of the masterplanned community Sanctuary at Wentworth Point by Sekisui House Australia have been approved.
Three phases, Summit & Ridge, Cascade, and Pinnacle, with a combined capital investment value of $550 million, were approved by the Sydney Central City Planning panel.
Plans for the 2300-apartment riverside development at 14–16 Hill Road were first introduced by Sekisui House in 2021.
On a 6560 square metre plot, the two 40- and 32-story Summit & Ridge towers by Sekisui will house 537 apartments. The towers' total construction cost is $225 million.
The panel approved the phase because it is "responsive to the wider Sydney context which is characterised by a range of 'villages' with different characters," it stated in its decision.
Summit & Ridge will include 642 parking spots in addition to 187 one-, 333 two-, 16 three-, and one four-bedroom apartments.
A three-level sleeved podium, a 40-story tower, and a nine-story block with a total of 393 apartments, including 78 one-, 271 two-, and 15 three-bedroom apartments, are all included in the $165 million Cascade's plans.
The $160 million Pinnacle, the second approved phase, will have 334 apartments spread across a block with a 40-story building and an 11-story building.
The Sanctuary masterplan was designed by Turner Studio, and according to director James McCarthy, it represents the next phase of the Wentworth Point urban renewal program.
"Sanctuary looks to a new urbanism," he said. "It seeks to go beyond business as usual and has deliberately not extended the 'gridside' pattern of east Wentworth Point, and instead embraces a new 'parkside' urban model.
"The new parks will form a series of green fingers that connect the adjacent regional parklands to the water's edge. This composition of buildings, set within nature, invites the adjoining precinct to celebrate the riverside location.​
"This new urbanism is deeply rooted in sustainability. Sanctuary allows for future public transport links and provides much needed open space and riverside parks that will greatly enhance the suburb as a whole."
---
Attend Sydney Build Expo, the largest construction, architecture and infrastructure show in Australia. Gain access to 9 conference stages and networking sessions, check out 400+ exhibitors, learn from 450+ high-profile speakers and connect with 20,000+ built environment professionals.