12 Apr 2023
'Sculptural' school buildings proposed in Sydney's inner west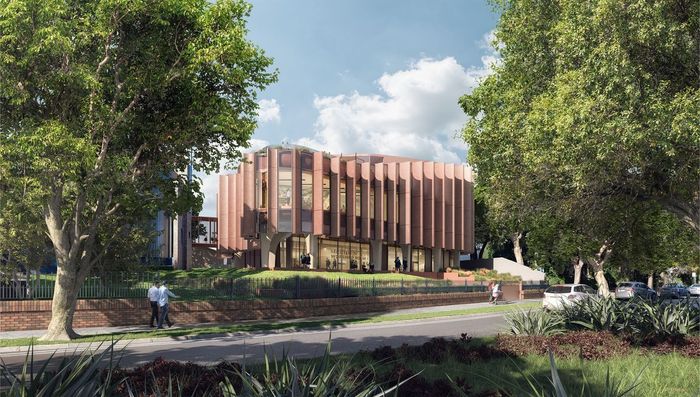 Architectus has designed two new school buildings for a private girls' school in Sydney's inner west.
The buildings will create additional teaching spaces needed to accommodate senior school enrolment projections for Meriden School in Strathfield.
A new Design and Creative Arts Building will be built on the western side of the existing campus, adjacent to the auditorium, while a Social Sciences Building will be located at the eastern side of the campus, adjoining the existing senior school administration building, which will also be refurbished.
"The Design and Creative Arts Building aims to capture a sense of craft, sculptural form, moulded with tools that relate to the practice of arts and crafts," the architects said in a design statement.
"The idea that the building is clay-like, moulded and crafted carefully with care in a playful and unique way is important to the building design, student activities and the overall campus experience.
"The building itself is permeable at ground level, where art studios and workshops open out onto the landscape and the learning activities spill out onto the campus grounds, activating the school ground plane. The DaCA Building materiality responds directly to the conceptual approach of a crafted building, sculptural in form."
The facade will be made with clay-like GRC blade elements in earthy tones that complement the existing materials and textures on the campus (including red, white and brown brickwork), while the upper floors will be clad in metal.
The proposed Social Sciences Building will accommodate teaching and learning spaces to support a range of activities.
"The new Social Science Building presents a new face to the local community along the Redmyre
Road frontage, engaging with the streetscape and providing more setback space from the road, allowing landscape to soften this boundary condition. The Social Science Building is made up of three connected forms, responding to the existing heritage on site, and considers the existing colours and textures," said the architects.
"The architecture emulates the principles of social gathering and creates spaces that encourage
students to dwell, contemplate and interact in various ways, both inside and outside the building enclosures. Informal encounters between peers is envisaged in the unique and playful geometric gestures created around the building perimeter, where again architecture and nature interact in organic forms."
A central linking volume containing the entry and circulation will act as a bridge between the old and the new.
A state significant development application for the new school buildings has been submitted to the NSW Department of Planning and Environment for assessment.
Source: ArchitectureAU
---
Attend Sydney Build Expo, the largest construction, architecture and infrastructure show in Australia. Gain access to 9 conference stages and networking sessions, check out 400+ exhibitors, learn from 450+ high-profile speakers and connect with 20,000+ built environment professionals.