11 Sep 2023
SAMI Bitumen Technologies Future-proofs Pavement Construction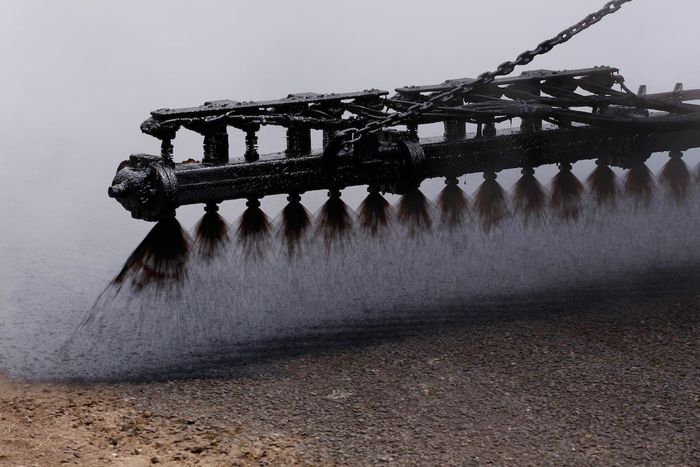 Embracing a daring mindset that encourages innovation, forward-thinking and taking calculated risks, SAMI Bitumen Technologies is helping drive the movement towards sustainable and efficient road construction practices.

Similar to other sectors in the construction industry, building a road relies on non-renewable materials that can have a detrimental impact on the environment due to the extraction process used. An innovator of pavement technology, SAMI Bitumen Technologies (SAMI) has partnered with the pavement industry to reduce the carbon footprint of road construction through several sustainable initiatives and products.
With over a decade of experience in the industry, SAMI general manager Sebastien Chatard, knows all too well that sustainability is an ongoing challenge in road construction. Starting his career in 2006, Chatard held a number of roles in road construction and maintenance company Colas before joining SAMI in 2015.
As general manager, he is helping drive the company's sustainability objectives. "The resource extraction process for road construction results in the release of greenhouse gases and poses potential environmental impacts," says Chatard. "To address these sustainability challenges the pavement industry is exploring alternative approaches to pavement construction."
"One such approach involves the introduction of innovative products that have fewer environmental impacts, while maintaining or improving engineering performance.
"These products aim to strike a balance between sustainability and functionality."
Another strategy the industry is striving to implement is the manufacturing of high-performance materials that can increase the lifespan of constructed roads and reduce maintenance cycles. These materials are specifically designed to withstand the stresses experienced by road surfaces, leading to longer-lasting pavements and reduced maintenance needs.
By adopting these alternative approaches, the pavement industry aims to achieve sustainable solutions that minimise environmental impacts without compromising the performance or safety of constructed roads.
To support these industry goals, SAMI manufactures and supplies sustainable products to reduce the carbon footprint in pavement construction. For instance, the SAMIGreen (low carbon polymer modified bitumen) range, launched in recent months, incorporates biogenic materials and polymer modifiers, improving pavement performance and durability while reducing the carbon footprint of road construction by around 50 per cent.
The pavement industry is actively pursuing strategies for reducing, reusing and recycling materials. Reduction efforts aim to minimise the carbon footprint associated with these materials by developing bio-based alternatives, like the SAMIGreen range, that offer comparable performance for spray seal and asphalt.
"The SAMIGreen range consists of biogenic materials and bio-based additives to reduce carbon emissions of the final asphalt," says Chatard. "These modified bitumen products enhance pavement performance, durability and resistance to deformation while minimising the need for frequent maintenance and repairs."
"By utilising SAMIGreen, the industry can achieve sustainable pavements with reduced carbon footprints throughout their lifecycle."
SAMIBioPrime, a sustainable product that replaces petroleum-based primers used in pavement construction, is another solution inspiring industry improvement. SAMIBioPrime is a bio-based primer derived from vegetable derivative renewable resources that reduces dependence on fossil fuels and contributes to the overall carbon footprint reduction in pavement construction.
"We can decrease carbon dioxide equivalent (CO2e) emissions by around 200 tonnes per square kilometre of our roads by replacing conventional cutbacks in prime coats with SAMIBioPrime," says Chatard. "Depending on the underlying calculation assumptions, SAMIBioPrime has the potential to be a carbon-neutral product."
Across its product range and operations, SAMI continues to make great strides in the sustainability space. Furthering its commitment to the reduction of carbon emissions, the company is promoting the increased use of bitumen emulsions – an alternative to traditional cutbacks. Bitumen emulsion is produced and applied at lower temperatures, resulting in reduced energy consumption and lower greenhouse gas emissions. Using bitumen emulsion has several safety and environmental benefits, says Chatard, which are aligned with SAMI's sustainability goals.
The industry also emphasises the reuse and recycling of materials. Asphalt in particular is highly recyclable, with the potential for 100 per cent reuse. The industry can also incorporate a certain amount of waste materials from other industries into pavement construction processes. However, careful engineering is necessary to ensure that the reuse of materials does not compromise the engineering performance and functionality of pavements and the recycling of waste materials satisfies compatibility with existing pavement products.
"It is essential to avoid situations where the lifespan of the pavement decreases, necessitating the use of additional resources," explains Chatard. "Additionally, it is crucial to ensure that recycled or reused materials do not pose health risks to the community or cause permanent damage to the environment."
"Proper evaluation for toxicity and carcinogenicity must be conducted to ensure the safety of both humans and the environment before introducing any such materials for use."
Therefore, the industry focuses on designing new products and formulations that facilitate the reuse strategy while maintaining the required functionality and performance of pavements.
Similarly passionate about the reuse of materials, SAMI promotes the use of its Crumbflex, a hybrid product that combines crumb rubber derived from end-of-life tyres with elastomeric polymers.
"By replacing a portion of the traditional asphalt binder with crumb rubber, the overall carbon footprint of the product is reduced by approximately 10 per cent," says Chatard. "Crumbflex exhibits the same engineering properties as highly modified binder with virgin materials, but in a more sustainable way."
In the main, this product enhances flexibility and durability, diverts waste from landfill and reduces the consumption of virgin materials.
Through these sustainable products and practices, SAMI is actively contributing to reducing the carbon footprint of the pavement industry by minimising resource consumption, promoting recycling and utilising eco-friendly alternatives.
As the demand for more sustainable and efficient road construction practices continues to grow, Chatard says SAMI finds itself at the forefront of this movement whenever it successfully persuades its customers to opt for emulsion over cutback products or hot binders in spray sealing.
"Additionally, when we encourage the use of emulsion prime instead of cutbacks as a prime coat, or advocate for the adoption of cold or warm mix technologies in lieu of hot mixes, we actively contribute to these advancements," he says. "Each day we witness a remarkable increase in the number of projects that embrace these alternative approaches, underscoring the importance of our efforts in promoting environmentally friendly and innovative solutions within the industry."
SAMI – in alignment with its parent company Colas – has set a target to reduce its carbon footprint by 30 per cent by 2030 and achieve a 100 per cent reduction by 2050.
Australia possesses the world's most extensive road network per capita, spanning an impressive length of over 874,000 kilometres, according to the Bureau of Infrastructure and Transport Research Economics, part of the Department of Infrastructure, Transport, Regional Development, Communications and the Arts.
"A considerable 40 per cent of this vast network is paved using diverse bituminous products – such as prime coats, initial seals, SAM seals, and SAMI seals – that serve essential purposes," says Chatard. "Regrettably, it is disheartening to note that Australia still relies heavily on cutback products for these applications."
Cutback products are used in precoating aggregates, providing penetrating coat to base courses and reducing the viscosity of bitumen or modified binders before spraying.
"Astoundingly, the Australian road industry consumes a staggering quantity of approximately 12,000 tonnes of kerosene and 15,000 tonnes of diesel each year during the production process, excluding the fuel itself," says Chatard.
"However, this significant volume could be substantially diminished by substituting cutbacks with bitumen emulsions, leading to an annual reduction of approximately 12,300 tonnes of CO2e emissions based on calculations using the Australian Flexible Pavement Association LCA calculator – this is just by replacing cutback with bitumen emulsion.
"Also, our bio-based materials have a lower carbon footprint without compromising engineering properties."
It's clear SAMI Bitumen Technologies is making its mark in sustainable road construction and maintenance built on a foundation of caring for its employees, stakeholders and the communities it operates in; sharing knowledge, resources, and expertise to drive sustainable development; and pioneering sustainable solutions.

Source: Inside Construction
---
Attend Digital Construction Australia, Australia's Largest Digital Construction Exhibition. Gain access to 10 conference stages and networking sessions, check out 400+ exhibitors, learn from 500+ high-profile speakers and connect with 35,000+ built environment professionals.