25 Oct 2022
Sam Crawford Architects Has Created a Curving Bridge in Sydney, Mimicking the Shape of Eels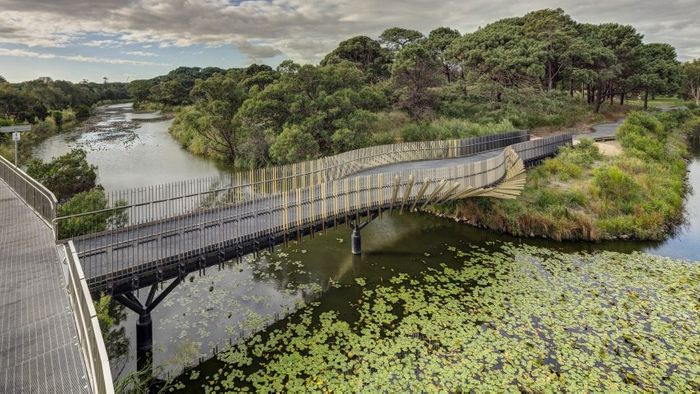 This bridge in Sydney's Centennial Park was built by local firm Sam Crawford Architects to resemble the shimmering appearance of eels. Its anodized aluminium fins spread outwards towards the water.
The bridge, known as Bara Bridge, was inspired by the curving shape and migration patterns of the "bara," or long-finned eel, which are significant in the customs of the local Dharawal people.
The 40-meter-long bridge was created by Sam Crawford Architects to cross a pond containing these fascinating snake-like fish.
It restores the connection between the park and the nearby suburb's pedestrian and bicycle lanes by replacing a dilapidated and inaccessible bridge.
"The dynamic expression of the bridge draws attention to the incredible and ancient migration of the eel to reproduce, an important aspect of the local Dharawal people's traditions," explained the studio.
"Other gateways to the park all reflect European sensibilities, but our design commemorates centuries of indigenous culture, and also references the materiality and colours of the park's existing infrastructure," it continued.
The sides of Bara Bridge are covered in anodized aluminium fins in hues of gold and silver that are intended to "shimmer" when people cross over and around the bridge. The fins curve outward in the centre to provide a viewing platform.
"The sinuous, curved shape of the bridge recalls the movement of the eels which swim slowly by means of lateral movements of the body," said Sam Crawford Architects. "As they move, they shimmer."
"The bridge widens at the centre to form a viewing platform, a place of repose, allowing pedestrians to pause and appreciate the aquatic and bird life and flora, such as endangered banksia scrubs and native grasses," it continued.
Bara Bridge is supported by a deck of steel beams and rests only on three piles that have been driven into the pond's bed in order to minimise disruption.
A non-slip, fiberglass-reinforced plastic mesh has been used to finish the surface, and the balustrades are constructed from spotted gum timber that is native to the area.
Prefabricating every part of the bridge off-site before bringing it to the park for installation also helped to minimise the impact on the site. This lessened the waste of raw materials as well.
"The contemporary connection to the much-loved park also has environmental values at the heart of the design," added Sam Crawford Architects.
"It protects banks from erosion, preserves habitat for endangered species, and provides visitors with an opportunity to directly engage with the pond ecosystem."
---
Attend Sydney Build Expo, the largest construction, architecture and infrastructure show in Australia. Gain access to 9 conference stages and networking sessions, check out 400+ exhibitors, learn from 450+ high-profile speakers and connect with 20,000+ built environment professionals.