05 Sep 2023
There's a Solution to Australia's Productivity Problem: Digital by Default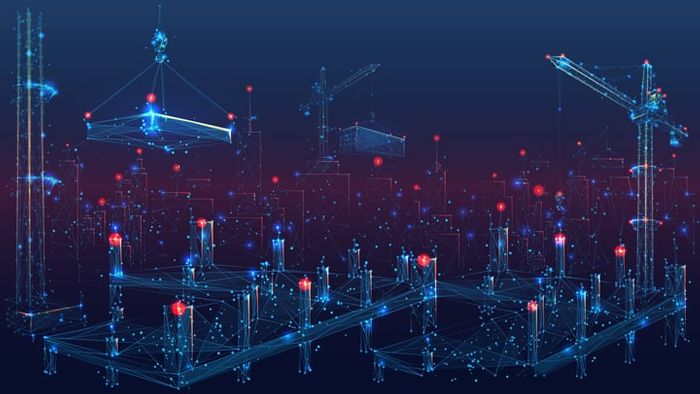 n June, after Australia posted its largest fall in national productivity on record, federal Treasurer Dr Jim Chalmers noted that the solution was not "trying to make people work longer for less" but about "investing in their skills and their capacity to adopt and adapt technology". This statement must come as a relief for the two thirds of people in the construction industry who reportedly already work more than 50 hours a week, and symbolises the need for change.

Everyone knows our industry must change. We can all see the consequences of being slow off the digital mark: three decades of sluggish productivity and priceless data lost in paper and PDFs.
But now, recessionary red flags and budget black holes mean we can't build the way we thought we could. After years of record levels of infrastructure investment, governments are looking to reschedule or, worse, 'reprioritise' some projects in their pipelines.
The Federal Government is currently undertaking a strategic review of its infrastructure investment program to ensure projects contribute to a "more productive, sustainable and liveable Australia".
This is important. At the same time, we know we need these projects. That's why we prioritised them in the first place. But reviews, rescheduling and reprioritisation do not support long-term business planning.
Uncertainty is already causing industry confidence to waver. Consult Australia's latest skills survey found businesses engaged in the design and delivery of infrastructure projects are hesitant to invest beyond the next six months.
This uncertainty has cascading implications for our workforce, skills development and business growth, and it plays out in everything from demand for office space, to investment in digital systems. However, it doesn't have to be this way. We can deliver the infrastructure we need now while investing in the skills and systems to build smarter next time.
A new source of competitive strength
Building smarter starts by embracing 'digital by default' – one of the recommendations outlined in the Australian Infrastructure Plan in 2021. Within 10 to 15 years, Infrastructure Australia envisaged that all Federal Government projects would feature digital twins, a national digital infrastructure roadmap would be rolled out, and that digital asset 'champions' would be appointed to each project with a value of more than $50 million.
But can we afford to wait a decade or more for digital by default to take off? Industry productivity today is lower than it was in 1990. The annual hit to the economy – from cost blowouts, program delays and legal disputes – is $47 billion a year, according to estimates from the Australian Constructors Association.
Can we afford to squander nearly half a trillion dollars in lost productivity over the next decade? Digital technology allows us to work smarter, not harder, and to deliver broader benefits across the economy – and this is why Consult Australia is leading a new campaign, Digital by Default.
In June we launched a green paper for reform that outlines how Australia's governments can increase productivity and produce better outcomes from infrastructure investment. It all starts with a new national office for Digital by Default in Infrastructure. Businesses in the infrastructure sector are waiting for governments to set standards for digital working.
Governments are waiting for market forces to determine the pathway forward. What we need is a national body that coordinates efforts and champions Digital by Default on every infrastructure project. We think a national coordinating office is a common sense solution and a modest investment, given the Federal Government maintains a commitment to a $120 billion ten year rolling infrastructure pipeline.
It makes sense to invest just a fraction to establish a forum for digital champions to share information and set national standards. We cannot have eight different standards for digital infrastructure – that's just revisiting the rail gauge problem that plagued the nation for 150 years. Instead, we can use our federation as a source of competitive strength.
Digital at speed and scale
There are challenges ahead that can only be dealt with by digital technology. Net-zero is one challenge, and delivering affordable housing at speed and scale is another. Some states are already driving a strong digital agenda, and this process gives us a platform to share best practice.
The Victorian Government's Digital Asset Policy, for instance, sets minimum actionable digital practices and standards to improve productivity for project delivery. The New South Wales Government is currently mapping the entire state for a spatial digital twin.
Industry forums are also forging ahead, like the Australasian BIM Advisory Board and the Building 4.0 CRC. But there is a reason why we have called our call to action 'Digital by Default'. World-leading digital practice remains siloed and innovative ideas are not replicated across projects or states. A 'digital by default' mindset is not business-as-usual across the project lifecycle at the national level. As a consequence, Australia trails many other developed nations for digital capacity and readiness.
So, what happens next? We are now calling for the industry's feedback, with roundtables around the country to confirm the consensus view and set the direction for national leadership before we launch the final plan before the year is out. Rewind nine years and the Productivity Commission was about to release findings into the cost escalation of public infrastructure projects.
The Productivity Commission argued that, without the right data and access to information, governments could "learn more slowly or not at all". Fast forward nine years and we'll be gearing up for the Brisbane Olympic Games. Will we have captured the Olympic-sized opportunity to grow our digital skills base and promote innovation? Or will another once-in-ageneration opportunity have passed us by?
Source: Infrastructure Magazine
---
Attend Digital Construction Australia, Australia's Largest Digital Construction Exhibition. Gain access to 10 conference stages and networking sessions, check out 400+ exhibitors, learn from 500+ high-profile speakers and connect with 35,000+ built environment professionals.