14 Feb 2022
Proposed Tower Trample on the Forest of Column in Brisbane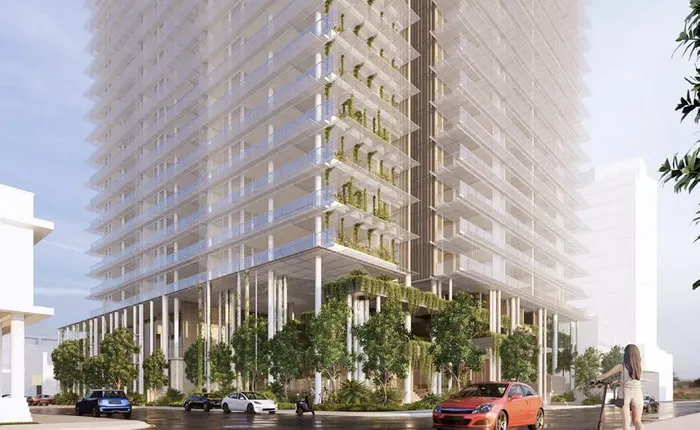 According to its design, a 17-story residential skyscraper proposed for the intersection of Chester and Morse streets in Brisbane would be gently anchored to the ground by "a forest of columns."
The property, which will be developed between Fortitude Valley, New Farm, and Newstead, will have 142 flats and 10 three-story terrace residences. The tower was designed by Rothelowman with landscape architecture by RPS Australia East and is known as "Chester and Morse" for its address.
By developing new public spaces through the ground plane and enhancing cross-block ties, Rothelowman's design promotes connections with nearby established precincts.
"Built form is carefully designed to address streets [and] promote the amenity of neighboring sites while recognising the desired concepts of transition between greater density western precincts and smaller scale character dwellings to the east," the company states in planning papers.
The tower shape is "blurred" at the margins as it floats above the porous pedestal and its array of columns, adding to a "ephemeral and lightweight" expression.
"The structure purposefully pursues a lightness and filigree that overlays the thresholds of internal and outside spaces, eschewing the tendency of surrounding buildings to favor the bulk of concrete," Rothelowman says.
The apartments include spacious balconies, moveable windows, and lattice-like screening around the perimeter.
A rooftop social space would have lush vegetation, a pool, and a grilling area.