12 Sep 2023
Position Partners Delivers Technology for Data-driven Project Management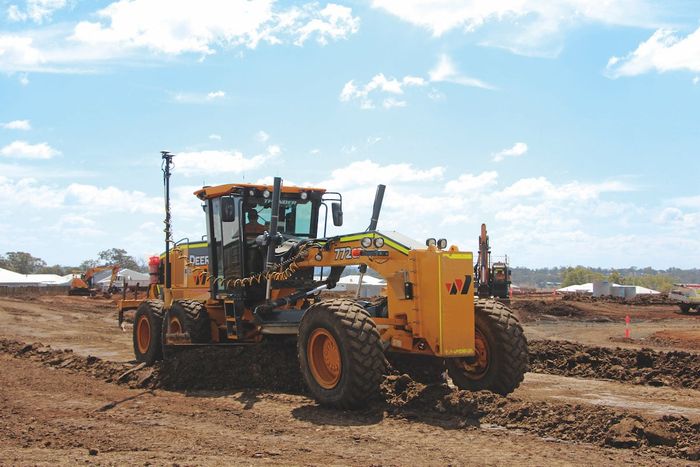 By delivering the latest technology for remote project management, safety and material management, Position Partners is helping contractors deliver construction projects safely and accurately.

The Topcon workflow
In today's digital age, it is widely acknowledged across the civil construction sector that machine control technology saves time, increases productivity, reduces material waste and rework and generally makes life easier on the jobsite.
Position Partners has been delivering Topcon positioning technology for heavy machinery for several decades, with a focus on user-friendly workflows that are easy to learn for operators and that enable project managers, site supervisors and surveyors to manage data seamlessly across all machine types and makes, survey rovers and more.
When customers and Position Partners' technicians were asked what they loved most about the Topcon 3D Machine Control system, many said they were impressed by its user-friendly and intuitive interface. Other specific benefits they mentioned were how it enables the operator to isolate and create surfaces on the fly, change all radio settings, choose from several display options and take topo shots. A few customers also emphasised how the machine control technology can save and change multiple buckets at the press of a button.
Kobus Viljoen, survey and machine control specialist at contracting firm Joe Wagner Group, says the workflow provided by the Topcon 3D Machine Control system makes the process of converting office designs into 3D models easy.
"Topcon 3D Machine Control provides a flow of data that everyone, from designers and surveyors to supervisors and operators, can easily understand and utilise," says Viljoen. "It really gives our business a competitive edge by enabling our team to deliver projects with improved productivity and greater accuracy."
With around 45 Topcon-enabled machines, Batchelor Civil in Tasmania also chooses the brand for its ease of use and flexible platform. The company's project manager Paul Mitchell says he can train a new user in minutes with the Topcon system.
During its delivery of an 80-house subdivision project, Batchelor Civil faced challenges associated with the use of global positioning systems for driveways and kerbs due to tight tolerances and a busy, built-up site. By supplementing its GPS base and rovers with Topcon's unique Millimetre GPS – which uses a high precision laser in addition to global navigation satellite system positioning – Batchelor Civil is now able to effortlessly meet the tolerances.
"We went from having plus/minus 30-millimetre accuracy with standard GPS, to between one and five-millimetre accuracy with the Topcon Millimetre GPS system," says Mitchell. "It works really well on our rovers and we're getting those one or three per cent falls spot on."
Connected material management
Family-owned hire company Brooks Hire has met the increasing demand for machine control and on-board weighing systems for its customers with Topcon technology solutions from Position Partners.
Lenore Brooks, general manager, Brooks Hire says the company saw an increase in demand from its customers wanting more technology onsite, such as machine control, weighing systems and GPS solutions. "We wanted to fill this need and deliver our customers a more efficient service," she says. "We find that Position Partners is a great partner to deliver that technology to them."
Topcon's on-board weighing systems for loaders, excavators and other heavy plant machinery are designed to increase efficiency and productivity in construction, mining and industrial applications by delivering accurate weight information to the machine operator via an easy-to-read control box mounted inside the cab. Loading accurately each time reduces return trips to the stockpile, resulting in fuel usage and machine wear savings.
Topcon weighing scales can enhance process efficiency, prevent loading errors and assist with live inventory control and material management.
Brooks Plant Manager WA/NT Gary Bushell says the company chose the technology because it is advanced and also because Topcon is constantly updating the system to ensure it is top of the line.
Topcon now offers advanced material management to complement the on-board scales, via Sitelink3D v2 office software and the Haul Truck application. The solution eliminates paper based reporting with hands free, in-cab payload logging that is connected to the office for centralised reporting and tracking of material movement.
Increase productivity, reduce downtime
Another system providing great value for Position Partners' customers is Tokara – a gateway for machines and assets. The service allows construction teams to send and receive files from most leading positioning technology brands and machine makes. Position Partners has tailored the Tokara service to deliver benefits for a wide range of stakeholders involved in civil construction projects, helping:
Project managers to proactively manage and ensure that all machines, sub-contractors and survey crews are working to the latest design file;
Machine operators to work efficiently with design updates, support and training that is available in the cab;
Surveyors to send design files to machines and supported survey devices remotely to ensure everyone's working to the correct design;
Foreperson, with an easy-to-read map that provides quick access to all machines and survey assets, site-wide; and
Contractors to keep track of all equipment across multiple projects.
Brendan Lawrence, survey manager at Menai Civil uses Tokara to manage all the company's machine control systems and survey rovers from a single interface, either using his laptop in the office or his field controller out onsite. He is the first point of contact for technical problems, which he usually solves using Tokara without having to physically visit the machine in person.
"I use Tokara every day to log in to machines and fix problems no matter where I am," he says. "If I get a call from an operator or supervisor on another site, I can access the machine immediately and generally fix the problem they're having or upload the files that they need."
As the company regularly moves its Topcon systems between machines or swaps components, Lawrence can use Tokara to setup the machine remotely by uploading machine files and changing the radio frequency, network login and any other settings.
"Tokara is a big stand out because at the moment I don't believe any other options out there have anything like it," he says. "But also, the service Position Partners provides has always been great."
Supporting safety
Proximity and collision awareness technology has advanced considerably in recent years, with the latest systems incorporating artificial intelligence (AI) to automatically identify and alert operators to people. Blindsight is a new solution from Presien, distributed and supported throughout Australia by Position Partners, that can differentiate between humans and other objects even in challenging, dynamic environments.
Josh Allan, construction business manager at Position Partners says the great thing about Blindsight is that workers don't need to wear a tag in order for the machine system to detect them, which helps to keep everyone onsite safe.
The solution can be fitted to all makes and models of machinery, with a combination of one or more sensors, and a small in-cab alert gives the operator audible and visual alerts when a person or traffic cone is detected.
"Blindsight is configurable to every machine and every site's unique requirements," Allan added. "It alerts the operator without adding unnecessary clutter or another screen to the cab."
The AI system differentiates between different assets (people, walls, safety cones around an object, etc) by determining their size and/or velocity. This essentially means any time a worker enters the vicinity of a machine, or it gets too close to an exclusion zone, the system will alert the operator immediately.
For managers and safety officers, comprehensive reporting on near misses – including video recorded from the system's cameras – can be used for training and process improvements to increase safety culture onsite. This data can then be digitally accessed by the site supervisor at any time.
"In addition to the day-to-day safety enhancements provided by systems like these for operators and workers, the data trends and reporting over time can give managers the big picture overview they need to identify ongoing hazards, training needs or process improvements," Allan says.
Position Partners will be showcasing all of these technology solutions and more at the upcoming Inside Construction Expo in Melbourne this September.
Source: Inside Construction
---
Attend Digital Construction Australia, Australia's Largest Digital Construction Exhibition. Gain access to 10 conference stages and networking sessions, check out 400+ exhibitors, learn from 500+ high-profile speakers and connect with 35,000+ built environment professionals.