07 Nov 2022
Plenary to Develop $600m UNSW Health Translation Hub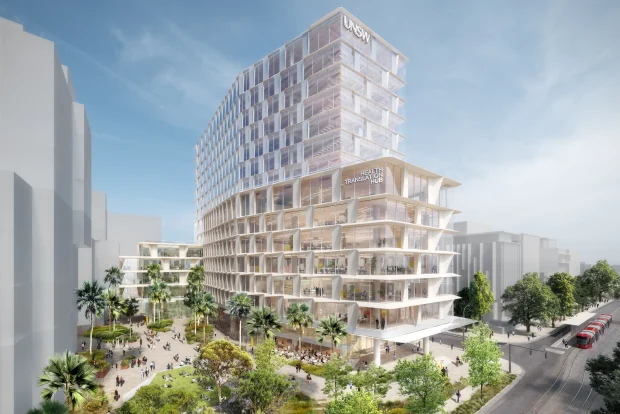 A $600 million building for the University of NSW on Sydney's southern edge will be constructed by a consortium led by Australian infrastructure investment specialist Plenary and supported by real estate investor ISPT, super funds HESTA and UniSuper, and will enable collaboration between academics, healthcare professionals, and industry.
The 35,600 square metre UNSW Health Translation Hub, which will have direct connections to a future Sydney Children's Hospital Stage 1 and Minderoo Children's Comprehensive Cancer Center as well as to UNSW's current Kensington Campus, will be funded by Plenary and its three other financial partners.
It is Plenary's first property project in NSW, but the infrastructure developer already has experience in the healthcare and life sciences sector thanks to projects like the $1.1 billion Victoria Comprehensive Cancer Centre.
The market for life sciences, a real estate asset class that is anticipated to grow by two-thirds to 2 million square metres in value over the two decades leading up to 2042 in response to the ageing populations of wealthy nations, is, however, drawing the attention of real estate investors from all over the world.
The new Sydney Children's Hospital building is scheduled to be finished in 2025, and construction on the Architectus-designed structure is scheduled to begin the following year. Hansen Yuncken is the contractor.
The property at the intersection of High and Botany Streets in Randwick is leased to UNSW for 99 years. Plenary Health will lease out the remaining space, with the university agreeing to a 20-year lease for 65% of the building's space.
According to Niki Douglas, UNSW's development director, the facility will have areas for clinical trials, research, and industrial collaboration. It will also have 2500 square metres of north-facing open public space.
"It's not a research building, it's not an education building, it's not an office building – it's a building that brings together those three unique groups in one particular setting," Ms Douglas said.
"By bringing industry and research together with a clinician who has a real-world problem, you can test and then you can connect and make sure that these new ideas are realised quicker."
Attend Sydney Build Expo, the largest construction, architecture and infrastructure show in Australia. Gain access to 9 conference stages and networking sessions, check out 400+ exhibitors, learn from 450+ high-profile speakers and connect with 20,000+ built environment professionals.