01 Oct 2021
Plans Proposed for 33-Storey Broadbeach Tower in Gold Coast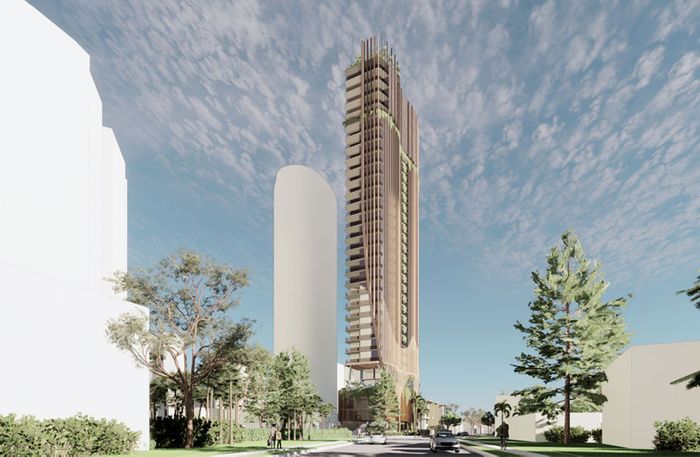 As the Gold Coast's red-hot apartment market continues to outpace supply, a developer has submitted plans for a 33-story residential tower in Broadbeach.
14 First Avenue Pty Ltd has proposed a 46-apartment project on a 670sq m site on the corner of First Avenue and Surf Parade, two streets back from the beach.
The company is led by Gold Coast developer Leonard Steiner and joint venture partner and Sydney investor Dimitri Katsimberis.
The high-rise residential project, dubbed Myst, will replace an existing eight-unit low-rise apartment building.
The development, designed by Plus Architecture, will be aimed at the local owner-occupier market.
The skyscraper will have two flats each level, each with three bedrooms. A four-bedroom penthouse with a private rooftop terrace and pool will be added on top.
On level 27, three sub-penthouses will be located above a residents lounge, with a private dining and function area, conference spaces, and work pods for individuals who need extra space while working from home.
Between levels four and five, there will be a wellness centre and a common pool.
The developer follows a slew of national property giants snatching up land on the Gold Coast, hoping to cash in on surging demand for new apartments and a potential stock shortage.
Demand from downsizing owner-occupiers and interstate purchasers taking advantage of the trend to work-from-home has fueled record sales of new apartments, particularly larger units.
State government projections show the Gold Coast could now attract up to 15,000 people each year, which has boosted developer confidence.
The city will require 6300 houses per year to meet demand.
There are now more than 50 residential projects under construction in the city with a total investment value of $4.8 billion and firm pipeline commitments.
The $2 billion vision for The Star Gold Coast casino site and the $670 million extension of Pacific Fair have made Broadbeach one of the Gold Coast's hottest development hotspots.
Turrisi Properties, a Brisbane-based developer, has also submitted plans to the council for a $100 million, 22-story residential tower at 9-11 Armrick Avenue in Broadbeach.
Macquarie Developments Group, a Sydney developer, spent $4.5 million for a 1200sq m corner site at 15 Rosewood Avenue in Sydney, which came with a licence for 186 units over 39 floors.
Broadbeach Luxe Development, led by director John Kubatov, has just finished construction on a six-star, $160 million luxury complex at 2 Charles Avenue, which will include 28 apartments.
Iris Capital, which earns $500 million a year from a $3 billion real estate portfolio, has entered the Gold Coast property boom, announcing plans for a $800 million, two-tower development at Broadbeach's Niecon Plaza site.
The 333 apartments in Iris Capital's project will be spread across two 30- and 40-story buildings, each having two sub-penthouses and a penthouse.