11 Mar 2022
Plans for Elevated Tower in Gold Coast by Raptis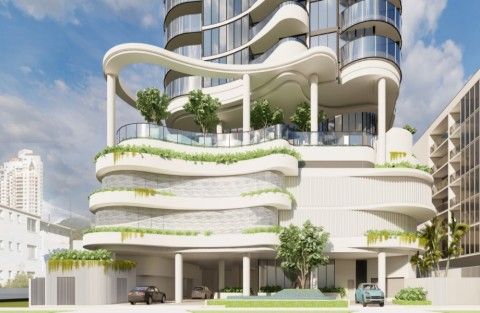 Raptis, a developer headquartered on the Gold Coast, has submitted plans for yet another local project, this time a 41-story skyscraper at Broadbeach.
The skyscraper will be built on an 1821-square-meter plot at 42-46 Chelsea Avenue, which Raptis purchased for $6.5 million from GV Property Group in 2021.
The 180 flats designed by Archidiom are divided into 144 three-bedroom apartments and 36 two-bedroom apartments, with five units each level.
The skyscraper will contain a 1406-square-meter podium, 838-square-meter interior area, and 860-square-meter common open space.
On the leisure level of the fourth floor, there will be a gym, sauna, pool, residents' lounge, eating area, and gardens.
Raptis' presence in Broadbeach is growing, with its newest apartment tower, The Sterling Broadbeach, now under construction at 6-8 George Avenue.
The 40-story building, designed by Koichi Takada, will have 64 two-bedroom apartments, 64 three-bedroom apartments, four sub-penthouses, and two penthouse apartments with facilities on the third floor.
Raptis' Broadbeach portfolio also includes the Pearl Main Beach skyscraper on Tedder Avenue and the newly built and sold out The Gallery Residences Tower.
Broadbeach is a hotspot on the Gold Coast, with a flurry of developments in the works or planned.
On the 1300sq m plot at 13-15 Armrick Avenue, Morris Property Group will construct its ninth residential skyscraper in the area, with 38 floors.
The Macquarie Developments Group has received approval to raise the height of its 2016-approved residential skyscraper from 41 to 52 stories.
15 Rosewood Avenue will be home to the $250 million Assana skyscraper.