30 Dec 2022
Plans for an 18-Storey St Kilda Tower are filed by Gamuda Land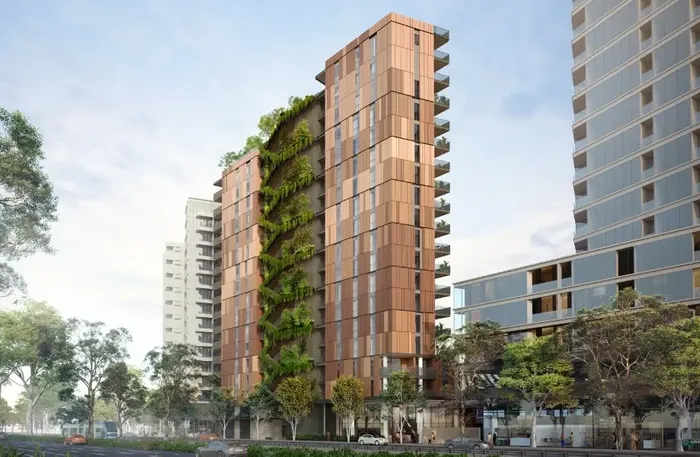 Gamuda Land, a Malaysian real estate developer, has submitted plans for an 18-story residential skyscraper in St. Kilda, which would be its third inner Melbourne apartment project in the last four years.
Gamuda is proposing designs to the Port Phillip City Council that call for a mixed-use tower at 95 St Kilda Road that would rise 62 meters and contain 78 flats.
Gamuda paid $9.75 million for the 945 square meter land in July of this year.
According to Jarrod Tai, general manager of Gamuda in Australia, the most recent project was a component of the company's pledge to supply the Australian market with 1000 homes over the following five years.
The property and development division of Gamuda Berhad, a major engineering, construction, and infrastructure business in Malaysia, Gamuda Land was founded in 1995. In 2014, it debuted on the Australian market.
On a 1400 square meter site on Chapel Street in South Yarra, its first project, a high-rise residential tower and six-star hotel, was finished in 2018.
A 200-apartment mixed-use project for $180 million was launched in July of this year for a 2600 square meter property in Fishermans Bend, Melbourne.
According to Tai, "We started a diversification strategy outside of Malaysia a few years ago."
"That was both for our property and our infrastructure. We looked at countries where either we had a presence already— so Vietnam and Australia—or countries where there was a strong reason for us to be there.
"So, Melbourne had a bit of both.
"Back in the 1970s education was a big draw for Malaysian immigrants, and a lot of our directors, our investors, our buyers have either lived in Melbourne at some point, or have now sent their kids to live in Melbourne.
"We are well-versed in Melbourne. We can easily comprehend how the dynamics operate in this situation.
Its newest endeavor is located 4.7 kilometers south of Melbourne's city center. The Bayley Ward Architects-designed, $78 million tower will be built on the site of a one-story structure that served as a rental car company's site office earlier.
The structure will have 10 one-bedroom apartments, 29 two-bedroom apartments, 39 three-bedroom apartments, and a shared sky terrace measuring 181 square meters. On the bottom floor, there will be a 436 square meter communal garden platform and about 110 square meters of co-working area with food and beverage amenities.

Earlier this year, during two pre-application discussions with Port Phillip, the developers indicated they would seek to restrict the amount of available parking. The plan calls for 66 automobiles, which is fewer than the gazetted requirement, to be accommodated in four basement levels (22 through car stackers).

Town planners Tract stated in documents presented to the council that the site's accessibility to sustainable forms of transportation, including as trams, buses, walking, and cycling, justifies the reduction in automobile parking.

The design is three storeys above the preferred maximum at 18 levels.
But according to Tract, the proposed height "provides a visual transition to the 15-storey building south of the site" and moderates the height of a 29-story neighboring structure to the north.
This transition is made possible thanks to a tiered upper level built-form that descends to the south, according to Tract.

"This design approach is considered to deliver a more appropriate urban design outcome to the site as it facilitates a site-responsive design and allows the building to the north to be better integrated into the St Kilda Road streetscape."
Gamuda's Tai said they would begin a marketing campaign in the third quarter of 2023 but would not rely on pre-sales before construction.
"We'll look to get some pre-sales first," he said. "But like our Chapel Street project we're quite well capitalised, so we do have the option to start before we reach traditional pre-sale hurdles."
---
Attend Sydney Build Expo, the largest construction, architecture and infrastructure show in Australia. Gain access to 9 conference stages and networking sessions, check out 400+ exhibitors, learn from 450+ high-profile speakers and connect with 20,000+ built environment professionals.