04 Aug 2022
Place Management NSW Receives Approval to Build in the Rocks Area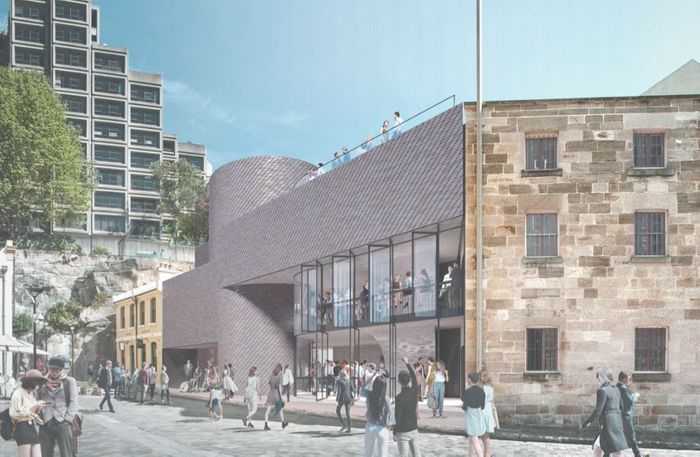 In the 230-year-old Rocks neighbourhood of Sydney, Place Management NSW, which owns and manages a large portion of the city's history, has been granted permission to construct a three-story commercial and entertainment centre on a street lined with heritage-listed structures.
A request to demolish a 1980s-era bank building sandwiched between two about 140-year-old sandstone buildings has been accepted by Sydney City Council.
According to the plan, the old Westpac Bank building will be demolished and replaced with a modern, three-story structure with a basement level that was created by Smart Design Studio. A rooftop terrace with a retractable awning will be accessed through a massive spiral staircase made of steel.
The council has allowed the development "for future commercial or retail purposes and-or food and drink premises," but there are no plans for a fit-out and the exact use of the building has not yet been decided.
Before fit-outs are approved, individual renters must submit additional applications.
The Rocks' $7.4 million development is set to encompass three adjacent street addresses and is located at the intersection of George and Atherden streets, all of which are a part of the Rocks Conservation Area.
On the NSW Heritage Register, two of them are home to historic items that are listed.
A police serjeant, bonded storage for commodities cleared by Customs House at adjacent Circular Quay, a warehouse for cork, a bottling facility, and bulk storage for wine have all occupied the Union Bond Store at 47 George Street, also made of sandstone and built between 1841 and 1843.
The cultural impact analysis was created by Urbis on behalf of Place Management, who assured the council that no excavation would take place beneath the historic buildings and that all nearby heritage items would be completely preserved.
To give access on all floors from the new building in Atherden Street, architects are proposing new openings for the western side of the historic warehouse.
"The majority of sandstone that will be removed to create the new openings will be reused on site to block in existing openings which are proposed to be modified and reduced for consistency," the study said.
According to Urbis, the proposal was created over an 18-month period in close collaboration with Place Management NSW's heritage team in order to ensure that the significance of the nearby heritage buildings and other structures was properly handled.
Additionally, Heritage NSW and the heritage advisor for Sydney City Council were contacted.
"The proposal is replacing a late twentieth century anachronistic infill building with a new infill building of design excellence and superior quality and amenity," the study said.
"The proposed building has been carefully designed to complement the strong historical and masonry character of the area and contributes positively to the aesthetics of The Rocks while allowing for a highly contemporary insertion that enhances the character of the area."
In 2002, the NSW Heritage Register included the Union Bond Store as "a rare example of a single bay warehouse in remarkable condition from this period."
The renowned architect John Bibb created the Victorian Regency-style warehouse, which is one of the rare surviving examples of his early work.
A pharmaceutical company that made Row's Embrocation, a liniment originally made for horses and cattle but eventually advertised as a treatment for gout, rheumatism, burns, scalds, and "old sores of 30 years standing," was its oldest tenant, occupying the space from 1875 for almost 50 years.