05 Oct 2021
Penultimate Waterloo Metro Tower Approved by NSW Government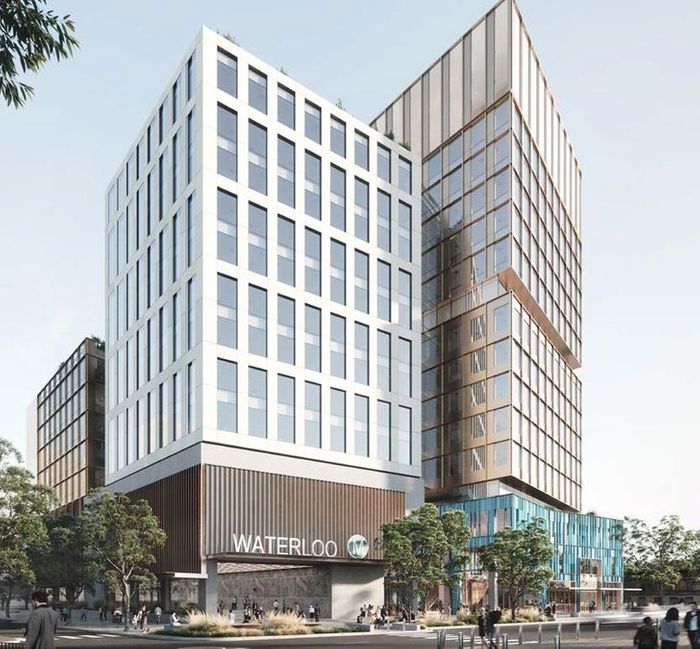 The Northern Precinct tower in the Waterloo Metro Quarter over-station development has been cleared by the NSW government after its proposed use was changed from residential to commercial and its height was reduced by more than 26 metres.
The northern tower, designed by Woods Bagot, is one of four towers proposed as part of the $900 million metro expansion. The Southern Precinct, which includes a 25-story student accommodation tower and a nine-story social housing tower built by Bates Smart, received approval in late July, while the central 24-story residential skyscraper designed by Hassell and Aileen Sage Architects is still being considered.
The authorised norther tower's form is divided into four quadrants ranging in height from nine to fifteen stories, with a through-site link and atria cutting horizontally and vertically across the building to facilitate visual interactions between the various sections and the public domain.
The proposal's original concept permission called for a 29-story residential tower in the northern precinct, but an amended concept development application accepted in June modified that to a 17-story commercial tower. In response to comments on the detailed design development proposal, which was accepted on September 23, it was further decreased to the final 15-story height.
The tower's architecture, which has an eclectic mix of materials, intends to respond to historical Wellington's industrial warehouse character. At podium level, it will include 34,150 square metres of commercial space and 588 square metres of retail space, all of which will be linked with the metro station.
Aspect Studios' landscape architecture is included in the development application, as is the provision of publicly accessible open space. Raglan Plaza to the north, a walkway from Raglan Street to Cope Street Plaza, and enlarged walkways along Botany Road and Raglan Street are all part of this plan.
The concept attained design perfection and was appropriate for the urban context, according to the planning department. It was noted that the smaller scale reduced overshadowing effects, implying that Alexandria Park would not be overshadowed.
The complete over-station development is set to be finished in 2024, in time for the opening of the Sydney Metro City and Southwest line.