28 Dec 2022
The North Sydney Tower Design by EM BE CE Receives Approval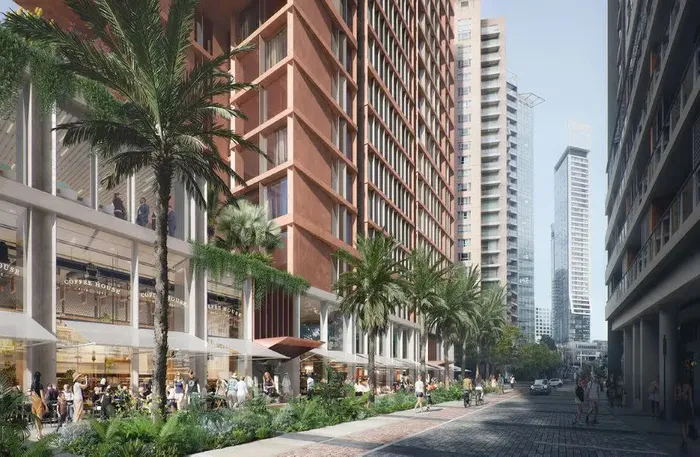 Plans by the beginning A 27-story, mixed-use tower on the lower north shore of the city has been awarded to Sydney architectural company EM BE CE, eliminating all other bidders.
EM BE CE won the $80-million project in Chatswood over two other proposals.

The tower's unique form on a 2290 square meter block at 3-5 Help Street, according to the competition jury, provided a powerful urban marker for the precinct.

"The careful and sensitive modulation of the building envelope to maximise northern light into neighbouring buildings, residents' apartments, communal and public open space, and the folding of podium wall heights to align with neighbouring buildings, integrated the project in a nuanced manner," the jury said.
The project, which is held by private Sydney developer Loftex Property Group, will now be the subject of a development application filed with Willoughby City Council.
Loftex received approval for amendments to Willoughby's local environmental plan in March of last year, allowing for the construction of a project with a height that is more than three times the permitted limit. The developer was successful in his efforts to raise the site's maximum height restriction from 25 to 90 meters as well as the permitted floor-to-area ratios.

The New South Wales department of planning, industry, and environment decided to support the amendments because they would make it possible to deliver more affordable housing and spur job growth in the Chatswood center.

"It is consistent with the actions of the North District Plan for Chatswood by providing additional commercial development capacity, maximises public transport patronage, promotes employment growth within an existing commercial zone and increases residential capacity in an accessible location," the department said.
Willoughby council opted to support the planning request and site-specific development limitations during a meeting in March of this year.
A month later, according to online records, Loftex formally purchased the two-lot site for around $74.26 million.
There are currently two residential flat buildings on the property, one with two stories and the other with three, totaling 57 apartments.
A two-story podium with around 2000 square meters of adaptable commercial and retail space will be part of the design by EM BE CE. The 27 storeys of residential space will have up to 128 apartments. Five flats, or 4% of the total, are expected to constitute affordable housing.

When finished, the construction will be a part of the eastern edge of a group of towers that make up the north-east corner of downtown Chatswood, where high-rise and low-rise residential structures will coexist.
Willoughby Council insisted on a minimum side-boundary setback of 4.5 meters and active street frontages to Help and McIntosh Streets as well as Cambridge Lane in order to support the planning request.
These setbacks will be used by EM BE CE to build Cambridge Walk, a landscaped promenade with a northward orientation. Green space will take up more than half of the plot. A 575 square meter park for residents will be made possible by a setback in the tower at level two.
Co-director Ben Green remarked, "In reaction to Covid, we wanted to create an area where inhabitants could work outside their home or go for a run without having to leave the building.

Green, Mladen Prnjatovic, and Chi Melhem established EM BE CE in 2021 after serving as directors with Sydney-based architects Tzannes for more than a decade.
---
Attend Sydney Build Expo, the largest construction, architecture and infrastructure show in Australia. Gain access to 9 conference stages and networking sessions, check out 400+ exhibitors, learn from 450+ high-profile speakers and connect with 20,000+ built environment professionals.