05 Jul 2021
New Private Hospital On NSW Central Coast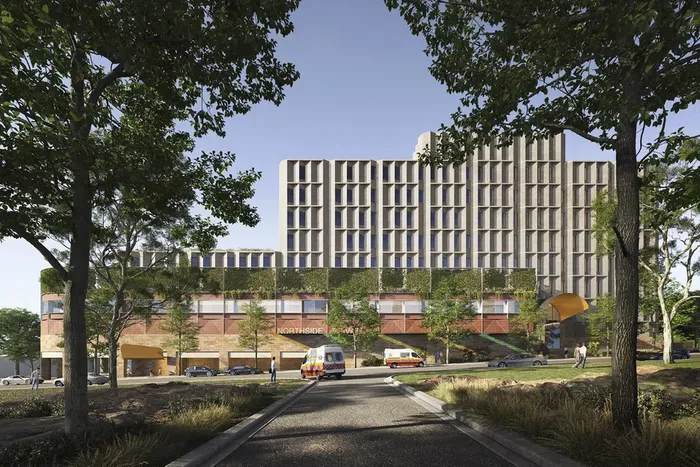 The plans for a new hospital precinct on the New South Wales Central Coast have been unveiled by SJB and Health Projects International.
With integrated operating theatres, acute care units, mental health wards, outdoor care areas, and ground floor retail services, the 238-bed Northside Private Hospital in Gosford will provide public and private health care.
The project was SJB's first health care precinct, according to director Adam Haddow. "We are dedicated to producing a sympathetic design outcome that enriches the local environment and provides care and amenity to the local community," he said.
The design emphasises an active and permeable ground plane, with a triple-height main entry offering ample natural light and ventilation, facilitating wayfinding and reducing the stress associated with hospital waiting rooms. Patients and workers will be able to enjoy the outdoors thanks to the green rooftop gardens.
The 10-story structure is designed to blend in with its surroundings, with sandstone and terracotta evoking Gosford's old quarries and a large colonnade enclosing the public realm retail spaces, offering a welcome edge to the hospital.
"Our experience in the residential, commercial, and hotel sectors has inspired the amenity-focused ground plane design as well as the thoughtful facade modulation that will surround the exterior of the building," Haddow explained.
The state cabinet approved the $172 million project in May, and it is anticipated to open in 2025.
At the time of the clearance, local MP Adam Crouch stated that the hospital on Racecourse Road will increase health care access for the rising population.
"The previously derelict Ausgrid Depot will be turned into this cutting-edge health center, which is critical given the 95,250 residents predicted by 2041," he stated.
"A shuttle bus will connect the new hospital to Gosford, as well as renovations to a nearby bus stop and over 300 parking spots for patients, visitors, and front-line workers."