17 Nov 2021
New Details Revealed on $891m Cockle Bay Wharf Tower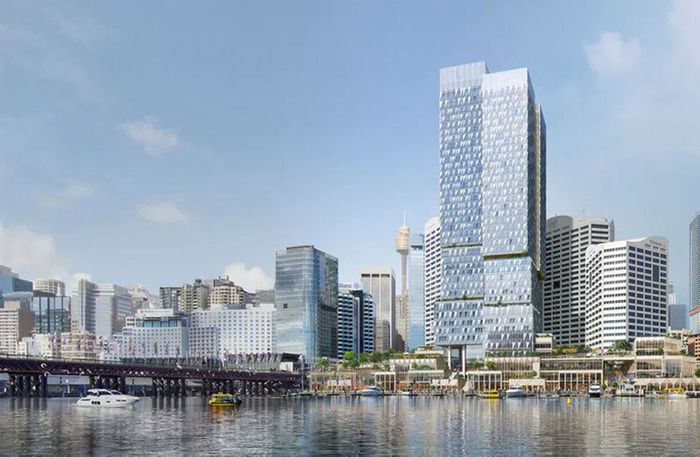 Cockle Bay Park, a landmark mixed-use skyscraper building worth $891 million, is one step closer to towering over Sydney's CBD skyline.
GPT Group and AMP Capital have released new details of their waterfront project in Sydney's Darling Harbour precinct, which will be open to the public.
The proposed 43-story tower, with 75,000 square metres of office space and 14,000 square metres of podium-level retail gross floor area, is being hailed as a game-changer for the harbourside district.
It's planned for a 2.2-hectare property owned by the NSW government, which includes Cockle Bay Wharf, elements of the Western Distributor, Wheat Road, Pyrmont Bridge, and Darling Park.
A state-significant development proposal has been submitted for the project, which was designed by Danish architecture firm Henning Larsen in collaboration with Architectus and McGregor Coxall.
The 183-meter tall tower is defined as "a contextually rich and striking design that will be recognisable in the city skyline," with a facade separated into "distinguished 'blocks' that transition upwards into a series of tall and slender building volumes," according to the documents.
"The four-segment composition of the tower makes it possible to accommodate more than one anchor tenant, with each anchor tenant having the possibility to acquire its own exclusive lift lobby in the lower levels," the plans revealed.
On seven levels of the skyscraper, outside terraces are envisaged, allowing for gardening. The terraces will be used for outdoor passive activities such as meetings, lunch breaks, and social gatherings.
In an area that also incorporates end-of-trip facilities, the plans also include a wellness centre.
The integration of public space is one of the redevelopment's core design aspects, and the concept seeks to provide "a variety of substantial social and economic benefits."
"The development will deliver high quality commercial and retail floor space in the heart of Darling Harbour, a key tourism centre for Sydney, contributing to Sydney's global tourist status," the planning documents said.
"It will contribute to the revitalisation of Darling Harbour ... (and) represents a rare opportunity to increase open space in the high-density inner-city area, where opportunities to deliver new public parks are limited".
"The Western Distributor rips through the heart of Sydney, but this proposal seeks to resolve that with significant new public space to create new pedestrian connections between the city centre and one of Sydney's most popular tourist destinations," NSW Minister for Planning and Public Spaces, Rob Stokes, said.
Darling Harbour, he added, generated $1.2 billion to the state's economy each year and, before Covid, welcomed almost 15 million tourists each year.
"This project is a huge vote of confidence in the future of the Sydney CBD. It will create 3500 construction jobs and once completed will be home to 7000 jobs.
"There will be new waterfront shops, restaurants and bars that will inject new life into this beautiful part of the city for future generations to come," Stokes said.