24 Jul 2023
Murcutt, Candalepas-designed Central Sydney Tower Approved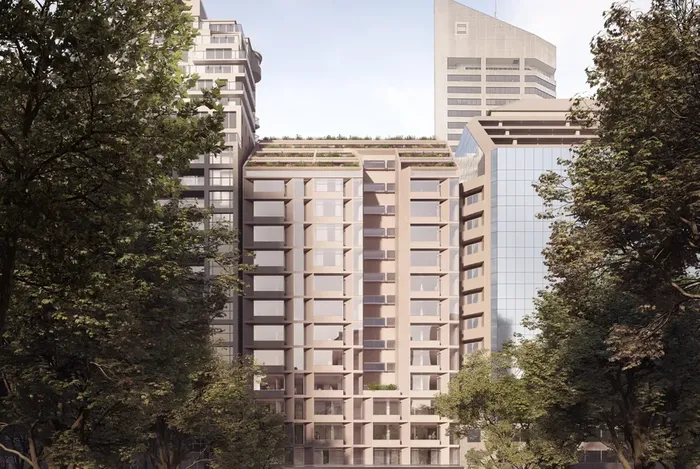 Glenn Murcutt and Angelo Candalepas's first collaboration in central Sydney has been approved by the City of Sydney.
To be located at 271 Elizabeth Street, the mixed-use project will replace the existing Hyde Park Inn on a prominent site adjacent to Hyde Park.
The approved project will deliver 42 residences along with ground-floor retail, a reduction from the 53 residences proposed in the initial design.
The design reflects the architectural fenestration qualities of the nearby Anzac Memorial at Hyde Park, and it emphasizes the surrounds' picturesque view lines. Warm grey granite cladding will create a sense of unity and a sculptural presence for the building.
"With the utmost respect for the building's rich heritage and its enviable location in the heart of Hyde Park, this extraordinary undertaking will honour its legacy," said Nathan Chivas, managing director of Central Element, which is developing the site in collaboration with MaxCap Group.
"Elizabeth Street stands as an emblem of Sydney's esteemed cultural and lifestyle hubs, and we are thrilled to have received the approved DA – a testament to the remarkable architects Glenn Murcutt and Angelo Candalepas. Together, our goal is to transform this site into a pivotal cornerstone of Sydney's future, and we are eager to share more about its captivating aesthetics and ambience in due course."
Source: ArchitectureAU
---
Attend Sydney Build Expo, the largest construction, architecture and infrastructure show in Australia. Gain access to 10 conference stages and networking sessions, check out 400+ exhibitors, learn from 500+ high-profile speakers and connect with 35,000+ built environment professionals.