21 Oct 2022
Multiplex Tops Out Stage Two of NEXTDC's S3 Data Centre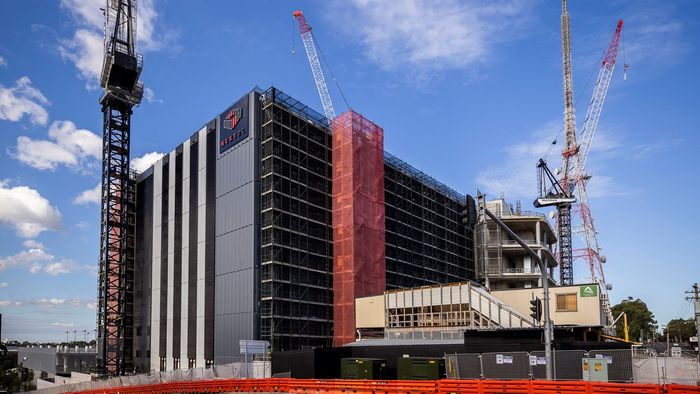 The last part of the second stage of construction for NEXTDC's S3 data centre, located at 2 Broadcast Way, Artarmon on Sydney's Lower North Shore, has been topped out by Multiplex.
On a 12,513 square metre site, the second stage of the center's construction consists of a 12,000 square metre data hall and auxiliary infrastructure.
David Ghannoum, Regional Managing Director of Multiplex NSW, stated that the last construction stage's topping out had been accomplished despite concerns surrounding the global economy and difficulties with supply chain and procurement.
"We are pleased to reach this noteworthy milestone for NEXTDC's landmark data centre, continuing our collaboration after the successful delivery of Stage 1 in July, and previously S2 Sydney in 2020," said Mr Ghannoum.
"It is a credit to the dedication and agility of our Multiplex team and our subcontractor partners."
The Greenbox-designed structure, which is nine levels above ground and roughly 50 metres tall, satisfies the growing demand for secure cloud systems and data storage as the use of digital services quickens. Additionally, over 3,090 people have been employed as of this writing by the NEXTDC S3 Data Centre Project.
The S3 Sydney data centre of NEXTDC connects to the S1 and S2 Sydney data centres already in operation as well as to NEXTDC's larger national digital infrastructure platform.
It has a number of services, such as offices, a 100-spot parking lot, and more than 3,000 square metres of office space.
"S3 Sydney topping out completion highlights NEXTDC's focus upon the effective collaboration and close-knit working relationships we develop with our strategic partners. Our successful relationship with Multiplex is a wonderful example of this. Together, we have demonstrated world class design, construction, and innovation capabilities at every stage of the S3 development," said NEXTDC Chief Operating Officer Simon Cooper.
According to Multiplex, the hybrid scheme structure achieved program and cost benefits.
"The structure uses a combination of reinforced and post-tensioned concrete with structural steel K brace frame for lateral support in lieu of the more conventional concrete shear walls, in turn saving significantly on time and cost," explained Mr Ghannoum.
The NEXTDC S3 facility most recently received the Stage 1 Tier IV Certification rating from the Uptime Institute.
This rating meets a widely accepted benchmark for confirming the 100% uptime assurances for dependability, security, and performance to assure data security and business continuity. It also emphasises resilience levels by offering the highest possible level of cooling and power redundancy.
Stage 2 and all other separable parts of NEXTDC's S3 Sydney data centre are expected to be finished in April 2023.
Attend Sydney Build Expo, the largest construction, architecture and infrastructure show in Australia. Gain access to 9 conference stages and networking sessions, check out 400+ exhibitors, learn from 450+ high-profile speakers and connect with 20,000+ built environment professionals.