24 Feb 2022
Morris' Eighth Broadbeach Tower Unveils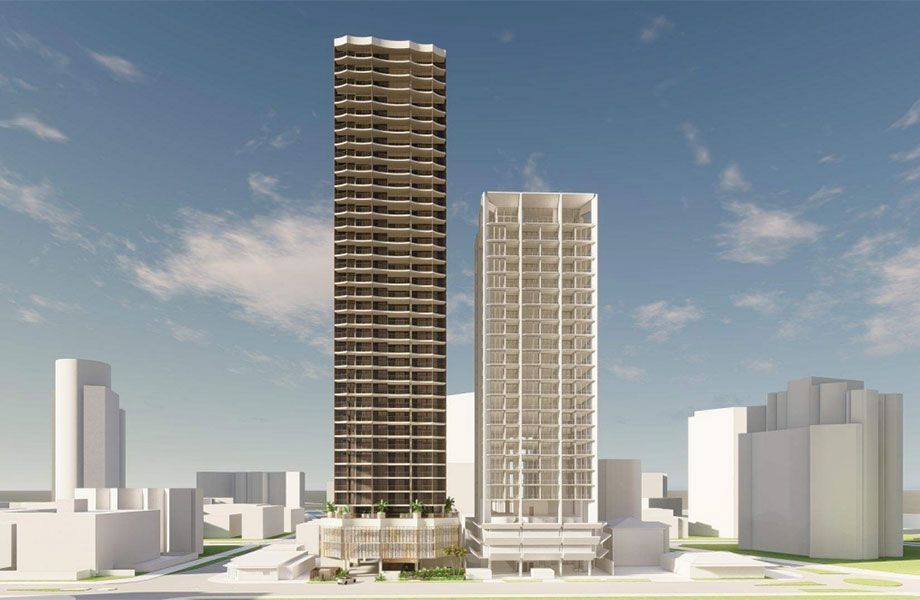 Morris Property Group has submitted plans for a high-rise apartment skyscraper on the Gold Coast's northern outskirts, hoping to capitalize on interstate migrants' thirst for additional beachfront residences.
The 38-story building would be erected over an empty block and replace an aging two-story apartment building on a combined 1300sq m plot at 13-15 Armrick Avenue.
In mid-2021, the Morris Property Group, led by Barry Morris, paid $8.8 million for the two titles.
The empty block was sold with a development permit for a 10-story skyscraper with 30 flats already in place.
The planned 160-unit building, designed by Canberra-based architects Guida Moseley Brown, would cater to both local and national owner-occupier purchasers.
Between levels six and 32, the Crest Broadbeach skyscraper will provide five two-bedroom apartments each floor, with a mix of two- and three-bedroom apartments up to level 34.
The upper three levels of the skyscraper will each include three three-bedroom flats.
On level five of the building's podium, a health center, gym, barbecue and eating area, and common pool are proposed.
If built, the complex will be 800 meters from Broadbeach's CBD, 1.8 kilometers from Pacific Fair Shopping Centre, and 1.9 kilometers from Surfers Paradise's CBD.
It will also be served by the Gold Coast Light Rail, which will stop 500 meters away at the Florida Gardens Station.
Morris Property Group will build its ninth high-rise residential building in Broadbeach.
Qube, a 40-story, 200-apartment building, and Koko, a 31-story construction with 94 two-bedroom apartments and five three-bedroom half-floor sub-penthouses, are also nearby.
Opus, a 27-story building with 113 apartments on the opposite side of the bowls club from the proposed Armrick Ave skyscraper, is also in the works.
Among other projects, the firm is working on Sandbar and Boardwalk in Burleigh Heads and Otto at Mermaid Beach.
Turrisi Properties, a Brisbane-based developer, is pushing ahead with plans for a $100 million, 22-story residential complex at 9-11 Armrick Avenue, which has been approved by the Gold Coast City Council.
Iris Capital, a well-known Sydney developer, has entered the Gold Coast property boom, announcing plans for a $800 million, two-tower building at Broadbeach's Niecon Plaza site—the largest project in the area since The Oracle apartments were completed more than a decade ago.
It also has plans for a 38-story condominium skyscraper at 73 Garfield Terrace in Surfers Paradise, on a 900-square-meter plot.
Developer Leonard Steiner and joint venture partner Dimitri Katsimberis of the Gold Coast have submitted designs for a 46-unit complex on the junction of First Avenue and Surf Parade in Broadbeach.
Broadbeach Luxe Development, led by director John Kubatov, recently unveiled its six-star, $160 million luxury building at 2 Charles Avenue, which has 28 units.
Macquarie Developments Group, a Sydney developer, has also entered the battle, spending $4.5 million for a 1200sq m corner site at 15 Rosewood Avenue. The property was sold with a permit for 186 units spread across 39 stories.