26 Jun 2019
Modeling the Future Now: Reality modeling's influence on the urban planning sector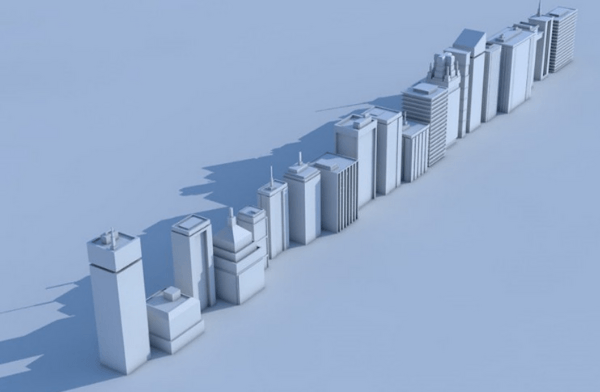 Tokyo 2020:
17 days, half a million international travelers, and a countless sum of security concerns are but some of the challenges the Tokyo Olympic Games committee are preparing to tackle in preparation for the 2020 Olympics. During the development and preparation stage of the event, over 500 billion Japanese Yen (approx over 3.6 Billion USD) was set aside to cover the total cost of hosting the International event. This large investment includes considerations into increasing slot capacity at both Haneda Airport and Narita International Airport, the construction of a new railway line to link both airports via an expansion of Tokyo station as well as further funding being implemented to help accelerate the completion of many major expressways across the capital city.
Infrastructural construction aside, numerous consultancies with specialties ranging from hospitality to security have been employed by the Tokyo Games 2020 committee to ensure that the event runs as smoothly as possible. One such company is spatial information consultancy Asia Air Survey Co. who have successfully recreated the city's Olympic venues in 3D modeling software to analyse potential security risks for organisations involved with the event. This virtual model of Tokyo was created using the application ContextCapture from the infrastructure design, operations and construction software provider Bentley systems.
Photographic surveys conducted throughout the specified event space were culminated into an interactive model capable of facilitating safety planning the mundane (closing off public roads during parades/marathons) and securing high profile VIP guests attending the event. Whilst the Olympic games have always been a popular occasion for companies at the forefront of technological advancement to show off the latest they have to offer, Tokyo is not alone in its application of reality modeling software to forecast the city/town planning.
Finland:
Finland's southern capital Helsinki was able to extract a 3D model of itself from a collection of over 500,000 photographic images and roughly 11 terabytes worth of geographical data. Applications utilising the topographical model have been able to isolate energy and climate information from residential and commercial districts in the area, providing information pertaining to the energy performance attributes of individual properties that span across the city.
The model is free to access for companies and citizens. This decision was made by the Finnish government in the hopes of maximising the application of the data collected from the city's infrastructural heating systems, renovation history, and energy certificates.
New South Wales:
3D Modeling endeavours have also been pursued in Australia where the NSW Government is in the process of building a 3D model of the entire state. This model's primary focus will be on urban renewal but could be further utilised for devising solutions to counteract matters of coastal erosion, dam levels and bush-fire mapping. Additionally, aerial photography dating back over the past seventy years has been collected on the database to produce historical models that will available for Residents to observe the city and state's growth over the past century.
In an interview between Sourcable and Regional Sales Manager of Product Sales at Bentley Systems Anna Murray, Mrs Murray elaborated on the two step process behind 3D modeling: photographic data collection and feeding said data into a reality modeling software (in this case Bentley's very own ContextCapture). This software compiles the raw data to piece together a geo-referenced and precise 3D replica of the sample area. When asked to elaborate on the significance of 3D modeling in the modern world, Mrs Murray stated that the 3D modeling takes advantage of the wealth of data captured through everyday smart phones, ICTs, Cameras and sensors connected through the Internet of Things. 3D modeling's capacity to visualise the information flows of previously difficult to quantify phenomena such as traffic, pedestrian movement and congestion allows for project planners to take the appropriate precautions prior to engaging in construction efforts.
This process of data collection and analysis allows for more intuitive solutions to be devised for complicated problems prior to their occurrence. Murray pointed to the Sydney Light Rail Project as an example of a project where frequent redesign caused significant blowouts and project delays. Had a real-time mesh been available, planning and cost estimation may not have been as big of an issue she said.
"People now have more drone technology, there are great digital cameras and sensors and laser scanning is coming down in price. Getting that data is becoming easier. We need to find a way to manage it, stream it, and give access to the people who need to see it."
Going forward Murray concluded that the greatest challenge 3D modeling has yet to overcome is presentation. The technology has a way to go before the software is widely accessible and intuitive for public use. For now, 3D modeling software remains one of the most prominent technologies influencing the city infrastructure planning sector, capable of differentiating between efficient and poorly performing assets.
Interested in 3D modeling and BIM? Check out the Building Information Modeling Summit being conducted at the Sydney Build Expo 2020 here. Register for your free tickets here.