11 May 2023
Mental health hospital proposed for Sydney's Northern Beaches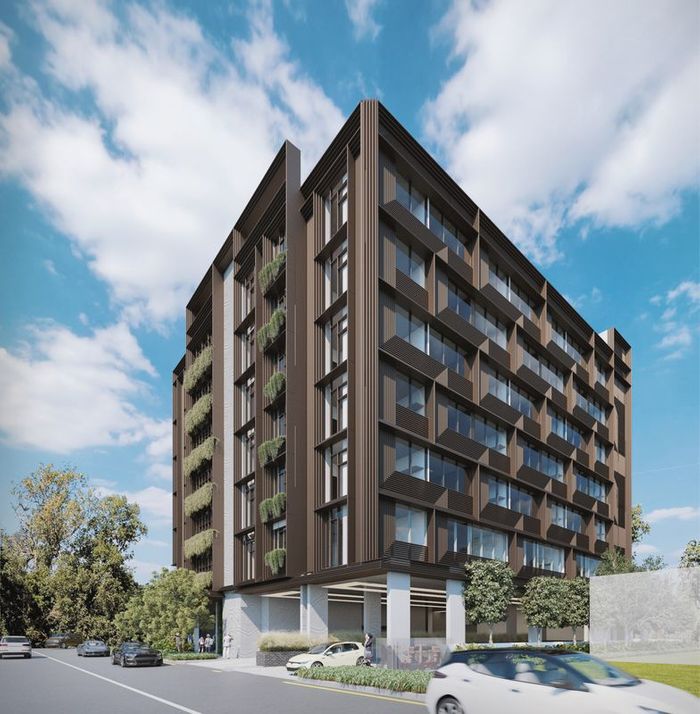 Thomson Adsett has designed a $50 million mental health hospital for Sydney's Northern Beaches.
The proposed eight-storey building, accommodating 80 beds, will occupy the site of a former warehouse on Tilley Lane in Frenchs Forest.
The project will include a variety of living and dining spaces, a gymnasium, in- and outpatient facilities, treatment rooms and three kinds of garden: rooftop, therapeutic and winter.
"This mental health hospital has been designed to have a positive, dignified presence on the streetscape of Tilley Lane (through its sophisticated use of materials and finishes, and biophilic incorporation of landscaped elements) – helping to positively connect with the local community whilst also reducing the stigma historically associated with the spaces of mental health care," the architects said in the development application.
"The design of the building's facade – most notably the etched concrete components which define both the building's base and the vertical stair element fronting Tilley Lane, as well as the facade planters which allow for cascading greenery to the building's street elevation – offer an engaging street presence, drawing Tilley Lane visitors in with features that generate interest.
"The graphic etchings to the building's concrete elements also provide an opportunity to express the site's history (pending further collaboration with Gai-mara-gal Group) through the building fabric, stimulating engagement and consideration for the Indigenous history of the site."
A previous development application for a six-storey hospital on the site was approved in 2017. The proponents now want to amend the proposal with a mental health facility.
The developer applied for rapid assessment of the project in December 2021. A state significant development application is currently on exhibition via the New South Wales Department of Planning and Environment.
Source: ArchitectureAU
---
Attend Sydney Build Expo, the largest construction, architecture and infrastructure show in Australia. Gain access to 9 conference stages and networking sessions, check out 400+ exhibitors, learn from 450+ high-profile speakers and connect with 20,000+ built environment professionals.