15 Sep 2020
Maximising efficiency in Australia's infrastructure industry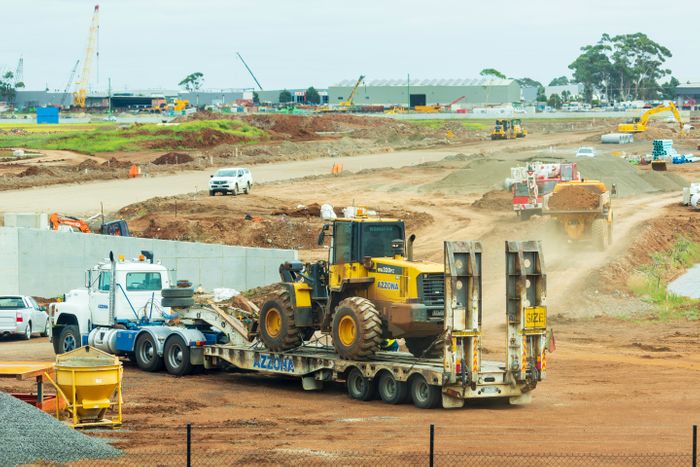 In the next three decades, Australia's population is expected to nearly double, from 25 million to 41 million people. With challenges such as population growth, urbanization and technology disruptions, civil engineers will face increasing pressure to build sustainable and resilient infrastructure quickly and efficiently. Dassault Systèmes' Prashanth Mysore shares how Australian construction companies can leverage new technology, new approaches, and new business models to innovate along the infrastructure value chain and meet these challenges head-on.
1. What are some of the challenges that are facing the construction industry today?
Accounting for 9 percent of Australia's GDP, generating over AU$360 billion in revenue and directly employing over one million people (approximately 9 percent of the total workforce), construction is the third largest industry, behind only mining and finance[1].
There are three main challenges that the construction industry faces:
Overrun on cost and schedule: Most large construction projects, easily overrun on cost and time to completion. Globally, according to research by McKinsey, time and cost overruns are the norm, and overall earnings before interest and taxes (EBIT) are only around 5 percent[2].
Lack of improvement of labour productivity: Further, we see that construction productivity has stayed relatively the same in recent times. McKinsey research highlights a meagre productivity growth of 1 percent annually for the past two decades. The research also states that boosting construction-sector productivity is a $1.6-trillion-a-year global opportunity. Construction is one of the least digitised sectors after agriculture.
Lack of digitization: Construction companies have also been slow to adopt digital tools that can help them improve productivity, reduce costs and keep to construction project timelines.
2. Are there particular types of projects that are more popular?
In pre-pandemic times, smart cities projects, transportation infrastructure and large industrial projects were gaining momentum. However, post-pandemic, infrastructure and transportation infrastructure projects would continue to evolve. Construction within the cities will be re-calibrated along a different tangent to include a health and safety dimension.
3. How can construction businesses make the business of construction more efficient?
One of the ways that the construction industry can become more efficient is by improving their productivity and reducing waste in order to become more sustainable. Here, construction businesses can learn from the manufacturing industry.
Manufacturing industry productivity has improved multi-fold in the past decades, whereas productivity in the construction industry has, at best, remained flat. The manufacturing industry improved their productivity through management of labour, lean operations, and adopting digital technologies through advanced Industry 4.0 techniques. The construction industry can similarly become more efficient and resilient, especially in challenging times, by building a digital infrastructure.
A number of digital technologies have already begun to shape the construction industry and are gradually changing how infrastructure and other large asset projects are designed, constructed and operated. These technologies such as building information modelling (BIM), combined with Manufacturing 4.0 technologies such as prefabrication, modular construction, wireless sensor for project tracking and monitoring, additive manufacturing and automated robotic equipment will form what we can deem as Construction 4.0.
4. How can the construction industry leverage virtual twin experience?
First let's talk about the digital twin. The digital twin is static and is an exact replica of your physical asset or a system in digital form. Architects and engineers can efficiently use BIM technologies to plan design and construct buildings and this information forms the basis of the digital twin. These 3D models can simplify construction process, identify issues and avoid costly last-minute changes to construction.
The virtual twin experience from Dassault Systèmes is more dynamic. The virtual twin enables you to bring real life experiences back into the virtual world and continuously optimize and update the twin model with real world information. This means having accessing to as-built, as-designed information, constantly synced in real-time. This allows companies to continuously monitor progress against a schedule and then we use this multi dimension BIM models for continuous monitoring.
This is where the virtual twin can go further. For example, the twin model could be predictive control approach and decisions are made based on forward simulation beginning with the current state of the building and then there is the possibility to simulate and then validate construction. Businesses can also run what-if scenarios and analyse a different path of actions and estimate the probabilities while keeping track of cost in order to select the best possible decision outcome.
There are several benefits of the virtual twin:
Automate project progress monitoring through connected devices and connected infrastructure progress monitoring, including validate that the completed work is consistent with plans and specifications.
Provide an as-built model of the construction project. It is important to have both a design and as-built model. This will help to capture knowledge and understand deviations in design, in order to improve decision-making in future construction projects.
Enable efficient and agile logistics and resource planning. This means that in the face of crisis, construction projects are not stalled. They may slow down, but they are not stalled. There is also the ability to monitor optimal use of resources such as cranes and other construction equipment.
Enable agile safety monitoring. Through proper monitoring of safety, hazardous situations on the construction site can be reduced and worker safety improved.
5. What will be the next normal for the future of construction 4.0?
According to IDC, by 2023, 95 percent of Australian businesses will have incorporated new digital KPI sets — focusing on product/service innovation rates, data capitalisation, and employee experience — to navigate the digital economy[3].
These indicators enable companies to report on their smart construction and sustainability initiatives. This means that construction companies will need a business experience platform that will enable them to manage complex digital and design data, collaborate across multiple stakeholders and enable companies to draw business insights across data and teams.
The Dassault Systèmes 3DEXPERIENCE platform enables companies to improve productivity as stakeholders are working on a unified data model. This helps them to eliminate bottlenecks in the project, reduce costs, improve efficiency and improve time to market.
Prashanth Mysore is the Global Strategic Business Development & Industry Marketing at Dassault Systèmes. Trained in mechanical engineering, Prashanth offers deep expertise and 23 years of experience in technical portfolio management, business transformation and product lifecycle management (PLM) solutions consulting across a wide range of industrial sectors notably Transportation & Mobility, Aerospace & Defence, Construction, Cities and Territories, and Energy & Materials.
Dassault Systèmes provides business and people with collaborative 3D virtual environments to imagine sustainable innovations. Within the civil engineering industry, our solutions provide 3D technology for lead development in civil engineering and infrastructure management. By creating virtual experience twins of the real world with our 3DEXPERIENCE platform and applications, our customers push the boundaries of innovation, learning and production. For more information, please visit: https://ifwe.3ds.com/construction-cities-territories
For more information, please feel free to contact Melle Whiting – Client Executive at Dassault Systemes for Infrastructure at melle.whiting@3ds.com or visit our website: www.3ds.com
[1] Source: Australia Industry and Skills Committee
[2] Source: McKinsey Research, June 2020
[3] Source: IDC Press Release, Feb 2019s