13 Mar 2022
Luxurious Apartment Plan is Set Up for Cronulla Beach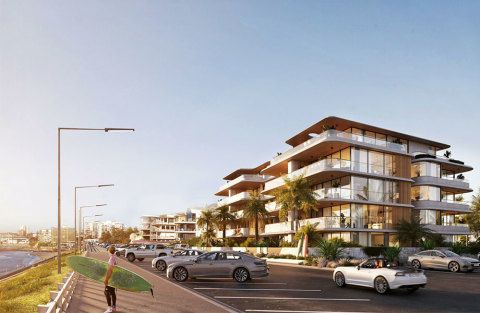 GNK Developments, a Sydney-based developer and constructor, has submitted plans for its first project in the Sutherland Shire, a beachside apartment complex in Cronulla.
The 1700-square-meter lot at 5-9 Prince Street will be transformed into a boutique building with 15 three-bedroom premium apartments spread across five floors.
The planned project, dubbed Solstice, is being developed in collaboration with Maritima Developments.
At Cronulla Beach's northern edge, the construction will replace three aging two-story homes.
The properties will have two street frontages, Prince Street and Mitchell Road, and will be 50m from North Cronulla and Elouera beaches.
On its northern perimeter, the Cronulla property is next to a big council-owned parking park.
The EMK Architects-designed H-shaped residential structure will include two neighboring buildings, or "wings," over two levels of underground vehicle parking.
Two penthouse residences with wrap-around terraces and plunge pools will be located on the top level, while ground-floor homes will have their own gardens and private, gated street access.
The popular Sydney beach district of Cronulla has been swamped with new luxury apartment buildings in recent years, as it remains the only beach suburb with a train station.
Since the beginning of the epidemic, coastal areas and oceanfront houses have become extremely attractive, owing to demand from local downsizers and interstate investors seeking holiday homes on the coast from which they may work.
After obtaining a blue-chip beachfront property at 67 Gerrale Street, some 1km south of GNK's proposal, developer Sammut Group is preparing plans for a $100-million-plus boutique apartment building of its own.
Nearby, at 3-23 Kingsway, Sammut is moving forward with plans for a $350-million mixed-use development after completing a $100-million site aggregation.
Vue, the company's next project, will have 112 apartments, commercial and retail space, as well as Cronulla's first full-line supermarket.
The high-end project Ozone, by Allen Linz's Rebel Property Group and Leda Group, is also well along, with completion scheduled for early next year.