15 Nov 2021
'Long-forgotten' Corner of Federation Square Revamp Proposal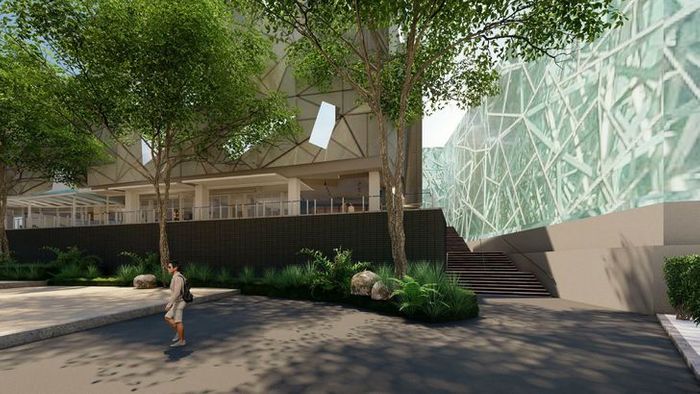 According to a plan filed to the City of Melbourne, a "long-forgotten" section of Melbourne's Federation Square whose tenancies have been unoccupied for more than three years would be refurbished and repurposed for a new restaurant, cellar door, and tasting area.
Due to their restricted visibility from the rest of the plaza and Swanston Street, and poor connectivity to the riverfront, the ground-floor tenancies on the southern side of the Yarra Building, facing the river, have failed to attract patrons throughout their lifespan. Proponents of the idea to remove the Yarra Building and replace it with an Apple shop frequently noted the inability to enliven this area of the square.
Agents of Architecture, headquartered in the Macedon Ranges, has designed plans for hospitality business Renascence Gippsland to transform the neglected corner into a food and wine destination.
A restaurant with a rotating, regionally sourced menu, a "experience centre" where food and beverage samples will be combined with visual and sensory experiences, and a "wine library" that promises to "move beyond the cellar door experience to provide an educative approach with a focus on climate and soil" will all be part of a new tenancy. The focus will be on regional Victoria's cuisine and wine, highlighting Federation Square's role as "a place for Victoria, not just Melbourne."
The existing terrace will be adapted for use as a dining area, with a steel portal frame fixed to the slab carrying retractable awnings between the existing fixed canopy and the proposed wine library, which will be located within the undercroft space at the east end of the terrace, according to Agents of Architecture's design.
The transparency of the curtain walls will be kept within the footprint of the tenancies, although some fixed panels will be replaced with sliding doors.
Following the uproar over the proposed Apple store, Federation Square, designed by Lab Architecture Studio and Bates Smart and completed in 2002, was given heritage protection in 2019.
The reactivation of the riverside tenancies will not have a negative impact on the square's heritage value, according to a heritage impact statement issued for this current plan by Lovell Chen.
"The proposal does not involve the demolition of significant fabric or elements," Lovell Chen states. "Further, there will be no threat to the dominance of the distinctive architectural language that defines Federation Square, with the new works being generally plain, simple and recessive.
"The works will also enable public use and access to a long-forgotten corner of Federation Square, in the process supporting the civic function of the place and facilitating connectivity with River Terrace."