02 Apr 2021
Lendlease Plots Height Increase at One Sydney Harbour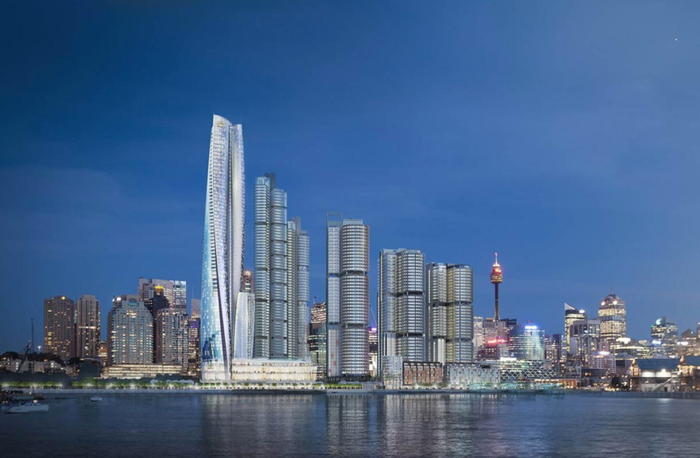 One of the three residential towers at Lendlease's $4 billion One Sydney Harbour development at Barangaroo South has been raised in height.
The developer has proposed that the second tower, which has been approved for the former shipbuilding and stevedoring site, be extended by an additional eight stories.
The additional storeys will be located below the tower's full floor penthouse levels, offering an additional 32 apartments.
The 5650 square meter addition will raise the building's height from 208 meters to 233.48 meters.
Residences Two, the second tower, will feature full-floor and part-floor homes in one, two, and three-bedroom configurations.
It will have unobstructed views north to the harbour bridge and opera house, and west to the Blue Mountains across Darling Harbour.
The building's new 60-story configuration of 297 apartments received development approval in late 2017.
In a quote, architect Renzo Piano said, "We have closely observed the skyline as seen from Darling Harbour. The proposed height increase would help to emphasize the overall 'stepping' that the masterplanned precinct envisions. As a result of this updated building scheme, [Residences Two] will be able to be similar in height to the adjoining [Residences One] tower while maintaining the same building footprint."
The increased height of [Residences Two] would have no discernible effect on the views accessible from the adjacent buildings, both designed and planned, according to architects.
"This is because [Residences Two] is already taller than the neighboring International Towers development and is effectively shielded from the Crown Hotel at its current height."
The 72-story Residences One, which is expected to hit a height of 250 meters, made headlines two years ago when a $140 million two-level penthouse and sub-penthouse apartment became the country's most expensive residential sale.
The third tower, which faces Hickson Road, is the tallest of the three, standing 30-stories tall (107m) above a two-story retail podium.
The Pritzker Prize-winning architect Piano designed all three towers in the One Sydney Harbour residential project.
All will be constructed on a four-level shared basement that will house parking, storage, and service infrastructure.
After 85 percent of the 317 apartments in Residences One sold, Lendlease accelerated the launch of Residences Two. Soon, a public-sale initiative is planned.
The basement and early works are well underway, and Lendlease has stated that the tower will be built once adequate pre-sales are achieved.
The sight lines of the now-abandoned Grocon development are currently being challenged in the NSW Supreme Court by Lendlease.
Grocon is suing the NSW government for reimbursement, alleging that the views at Barangaroo were sold twice—to Crown and Lendlease for their respective ventures, and to Grocon.
Website: theurbandeveloper