08 Jul 2021
High-Rise Student Housing Towers Approved in Sydney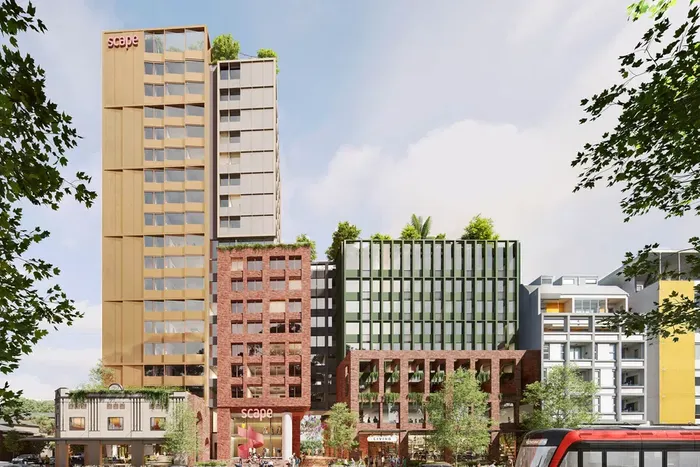 With development rights obtained, four student accommodation buildings designed by four different architecture companies will be developed along Anzac Parade in Sydney's Kensington and Kingsford.
Scape, Australia's largest student accommodation provider, is investing about $1 billion on these four projects, as well as a fifth tower for which clearance is "imminent," according to the developer.
The towers range in height from six to eighteen stories. For each skyscraper, design competitions were undertaken, with SJB, BVN, PTW, and Plus Architecture being chosen for the four authorized towers.
SJB is designing Scape Lachlan at the Todman Square crossroads, the largest of three projects, which will consist of a cluster of three buildings atop a shared foundation with community, communal, and retail uses.
The design stresses public space, according to SJB studio associate Joseph Loh. "To improve the street character, the building is divided into components that play against the skyline and scale," he said.
"At pedestrian level, materials alter in color, texture, and transparency, offering a rich, dynamic experience. Fine steel features, pattern, and landscape contrast with concrete, glass, and brick structures. The community work hub, located at the internal intersection of the through-site link and the newly built Lachlan Lane, is a place where anybody can participate. At the core of the city are generous common areas.
The tower at 182-190 Anzac Parade will be designed by Plus Architecture, the tower at 172-180 Anzac Parade by BVN, and the building at 391-397 Anzac Parade by PTW Architects.
"Scape's magnificent properties will supply much needed residential and student rental accommodation, as well as an economic hub for Randwick's booming health and education precincts," said Stephen Gaitanos, managing director and co-founder of Scape.
The buildings will feature rooftop pools with gyms, outdoor movies and leisure zones, co-working and study zones, and other types of shared space to encourage social interaction, according to Scape.