19 May 2023
Grimshaw unveils "sculptural" Sydney office skyscraper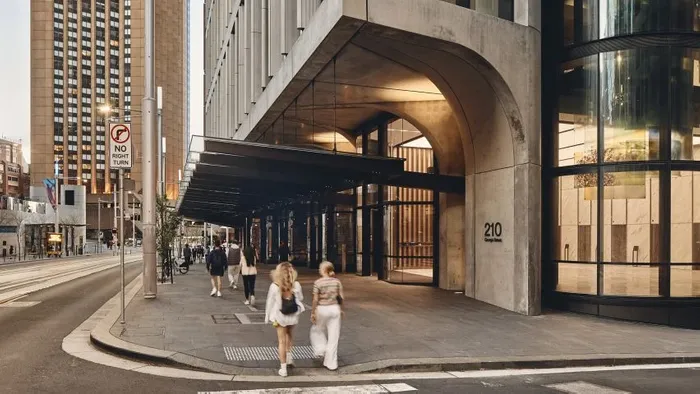 Architecture studio Grimshaw has completed the 27-storey Poly Centre office skyscraper in downtown Sydney, which is fronted by a series of arched cantilevers.
Built on George Street near Circular Quay in central Sydney, the skyscraper is described by Grimshaw as "sculptural in form".
It consists of three visually distinct elements – a concrete lift core to the east, a glazed office tower and a street-facing 11-storey tower made up of cantilevered concrete arches.
The shorter arched tower is designed to provide a covered walkway alongside the street and a series of double-height spaces for the office tower.
Each of the double-height spaces connects two floors of office space within the main tower, creating "vertical villages" on the building's lower floors. They each open out onto a balcony space.
The arched spaces are fronted with glass and protected from the sun by a series of vertical blades.
"Grimshaw's Poly Centre is designed to maximise daylight, enable greater connectivity within and enhance enjoyment of public realm beyond," said Grimshaw managing partner Andrew Cortese.
"We devised a system of elegantly elongated concrete arcs that are expressed at street level and repeated across each double-height floor plate to create mezzanines throughout the 27-storey build."
In total, the building contains 19,500 square metres of office space with a lobby occupying the ground floor and a large meeting space called the City Room located at the top of the tower.
"On the top floor 'city room' the arcs reappear as expressed steel," added Cortese.
"For all this formal modelling, the tower has a sensuous feeling to it, materials vary in texture and tonality; light falls across its curves beautifully, soon to illuminate the village-like movement within."
The tower forms part of a wider development of the city block, which will include the Salesforce Tower at Sydney Place designed by UK studio Foster + Partners.
It also includes the Sydney Plaza & Community Building, which was recently completed by Ghanaian-British architect David Adjaye's studio with artist Daniel Boyd.
Source: Dezeen
---
Attend Sydney Build Expo, the largest construction, architecture and infrastructure show in Australia. Gain access to 9 conference stages and networking sessions, check out 400+ exhibitors, learn from 450+ high-profile speakers and connect with 20,000+ built environment professionals.