04 Nov 2021
Greenland Completes Sydney's Tallest Residential Tower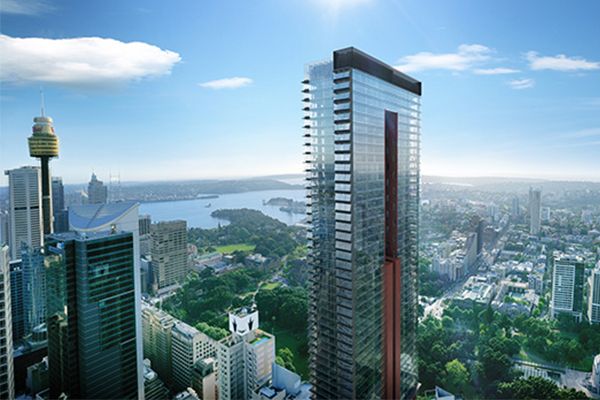 Greenland Australia and Probuild have finished the $400 million mixed-use Greenland Centre in Sydney's CBD, which is the city's tallest residential tower.
The $700 million skyscraper, which stands 236 metres tall and has 67 storeys, has surpassed Fender Katsalidis' 230-meter World Tower, which was finished in 2004.
In 2013, Greenland paid $100 million to Brookfield Asset Management for the site, formerly the Water Board, on the junction of Bathurst and Pitt streets in the CBD.
Rather than demolish the existing 26-story building, Greenland engaged the help of BVN, Woods Bagot, and Arup to keep it standing while constructing a new cantilevered 40-story skyscraper above it.
The site's demolition began in early 2015, while the main tower's construction began in 2017.
Greenland's second builder on this project is Probuild, after the Chinese-backed developer split with tier-one builder Brookfield Multiplex in 2016 over commercial disputes.
The Primus Hotel, a boutique 180-bed, five-star hotel, has been converted from the adjacent heritage-listed Art Deco style old Metropolitan Water Sewerage and Drainage Board building.
The Shanghai Municipal Government owns the Primus Hotel, which is part of a hotel group.
There are 479 apartments above it, with no mention of the number four because "four" and "death" have similar Mandarin Chinese pronunciations. As a result, the skyscraper will have an 83rd floor, but only 68 floors will be available, with no levels 4, 14, 24, 34, 40–49, 54, 64, or 74.
The tower's apartments range in size from 39 to 265 square metres, with the $35 million, 674 square metre David Selden-designed King Penthouse offering 270-degree views of Sydney Harbour, the CBD, Barangaroo, and Darling Harbour.
The capacity to supply natural ventilation for occupants near the tower's pinnacle, according to a Greenland spokeswoman, is one of the building's main points of difference and most complex architectural marvels.
"The 'Sydney Verandah' design features vast, angled panes of glass suspended from hand-like clips that enable fresh air, gentle breeze and light rain into the space while it remains protected," they said.
"It's a game-changing innovation as above 20-storeys, apartment living relies on air conditioning for ventilation, with high winds making open air impossible."
Over five stories, the building houses a 2000-square-meter Creative Hub with room for dance, theatre, and visual arts. The City of Sydney will operate it on a 99-year lease.
Greenland Centre also has two notable permanent artworks by New Mexico-based artist Larry Bell and Sydney-based artist Agatha Gothe-Snape on its front and main lobby.