21 Oct 2021
Frasers Plots First Phase of $2.2 Billion Masterplanned Development in Macquarie Park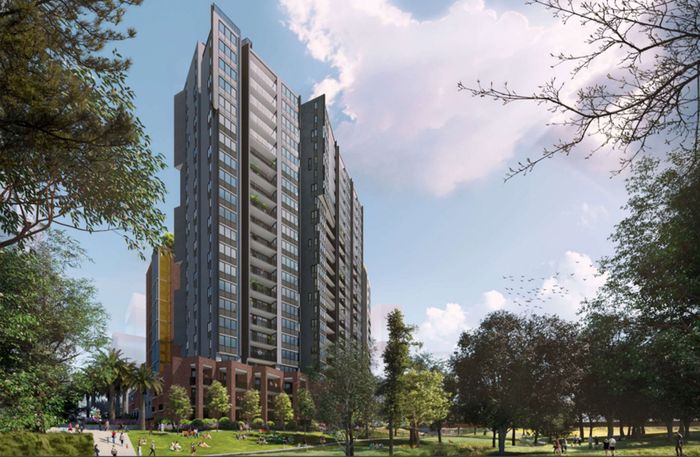 Frasers Property Australia has submitted a stage two development application for the first towers at its $2.2-billion Macquarie Park masterplanned development.
The developer and investor, which is a subsidiary of Singaporean property behemoth Frasers Property Limited, plans to construct two towers and a collection of townhouses as the first part of a multi-phased project that will take 20 years to complete.
The concept is being developed in collaboration with Citta Property and Mission Housing Australia.
After qualifying as a State Significant Development in April 2020, the 17-tower residential complex, which was first announced in mid-2017, had its approval process accelerated.
The administration had earlier stated that it was expediting the evaluation of stage one of the project in order to help the economy recover from the Covid-caused slowdown.
The state government committed $20 million to rezoning 12 strategic, significant precincts in Sydney, including Macquarie Park, as part of the NSW budget release earlier this year.
The redevelopment, which is located on the corner of Epping and Herring roads, is being hailed as Australia's largest social and affordable housing regeneration project, with 35% of the residential units in the masterplan being subsidised.
The 8.2ha property has been divided into 14 zoned building lots, with three on the site's northwestern side, four on the site's north-eastern edge, three in the site's centre, and four on Epping Road.
The masterplan will be provided to the state government at no additional expense.
Frasers intends to begin its masterplan at the site's eastern end, near to Shrimptons Creek, according to recently submitted designs created by Cox Architecture.
It has presented designs for a 17-story tower with 216 social and affordable units and a 24-story tower with 268 units, all of which will be joined by a common podium.
Over three basement levels of car parking, the first stage will also include the delivery of four three-story homes and a central courtyard, all designed by Hassell.
In addition to residential buildings, Frasers is developing a variety of mixed-use developments in the masterplan's latter stages.
To bring lower energy costs to residents, the construction will have a 1.5 megawatt photovoltaic system to reduce power peak needs, high efficiency centralised hot water, smart metering technologies, and little use of on-site gas.
There will also be a focus on reusing resources and reducing waste during construction.
On-site Mission Australia offices will be staffed to help in the delivery of support services and programmes to strengthen the local community.
The estate is part of the $22 billion Communities Plus programme, which seeks to increase social housing in the state.
Waterloo, Arncliffe, Telopea, and Riverwood are some of the other significant sites.
Developers and investors will be permitted to build 40,000 private housing units, 500 affordable housing units, and 23,000 new and replacement social housing units under the scheme.
The building would be welcome respite in a city where housing affordability is in crisis and house prices are out of reach for regular homeowners at $1.3 million.
According to the Australian Institute of Health and Welfare, the average Australian household spent 14% of its income on housing in 2017-18.
Those in the lowest 40% of salaries in private housing, on the other hand, paid an average of 32% of their income for their dwellings, putting them in serious financial distress.
Over the next 20 years, the NHFIC estimates that 700,000 new social housing units will be required.