08 Jan 2020
Four epic immersive installations have taken over Carriageworks in Sydney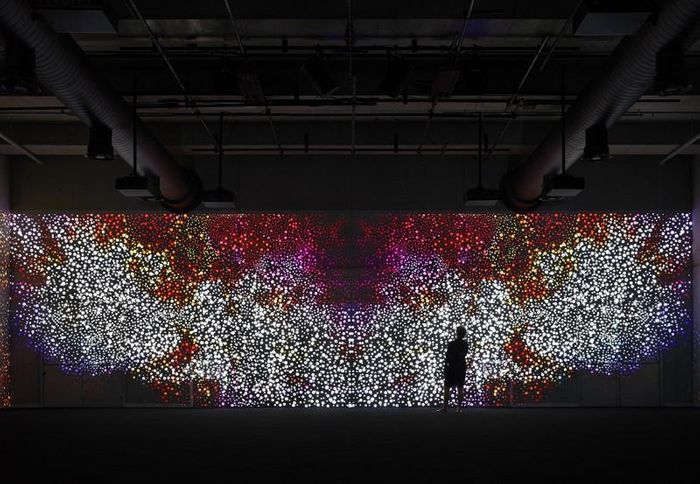 Four large-scale artworks are setting off the 2020 arts program at Sydney's iconic Carriageworks. They are free to attend for the public, and they will remain in the venue for quite some time, highlighting new works by some of the leading artists in Australia.
These four described below, all make use of light as a medium by which they aim to explore our basic interconnectivity as humans, continuing Carriageworks' long and storied history of procuring challenging works that hold deep meaning for humanity. They make us think about illusions, light and image projection as a whole is much broader and philosophical in terms of their projected approaches.
"Carriageworks is a site imbued and emblazed with history, yet each of these projects is firmly anchored in the present day," said Head Curator Visual Arts Beatrice Gralton. "They reflect the capacity for artists to navigate a cultural compass that embraces paradox and shapes beauty in a troubled world."
Rebecca Baumann: Radiant Flux (Until 14th June 2020)
Radiant Flux is Rebecca Baumann's response to the unique light and space of Carriageworks' architecture. Spanning over 100 meters in length and nearly 15 meters high, every glass surface of the building's exterior has been covered by Baumann with a dichroic film. The luminous material simultaneously transmits and emits tones of blue, magenta and yellow, and reflects gold, green and blue. When viewed from different angles the color range shifts dynamically, ensuring the work is never experienced in the same way twice.
Known for her mesmerizing kinetic sculptures, installations and performance works, Radiant Flux is Baumann's most ambitious project to date. Simultaneously immersive and participatory, the perception of the building's immediate environment seen through the glass creates a visual ambiguity between what is inside and outside. As the sun passes over the building, filtered light moves through space like a sundial, throwing dense hues of color across the floors and walls, and drawing attention to the heritage and contemporary architecture of Carriageworks.
Daniel Boyd: VIDEO WORKS (Until 1st March 2020)
Daniel Boyd is a Kudjala/Gangalu artist who works across painting, video, and installation. VIDEO WORKS is a site-specific reconfiguration of three major video installations produced by the artist between 2012-18.
VIDEO WORKS allows visitors to dive into an immersive journey through time and space, an experience a whole new dynamic and world of exploring the cosmos. This also simultaneously evokes the molecular properties of matter and the expansiveness of the universe in a manner that Neil Degrasse Tyson would be proud of. A Darker Shade of Dark #1-4 (2012); History is Made at Night (2013); and Yamani (2018) will map the walls of the gallery with Boyd's infinite cosmos of dynamic compositions and prismatic color. The artist's signature motif of the circular lens is used to fragment and disrupt Eurocentric perspectives of history, revealing that knowledge is both lost and found through information shared and obstructed. Set to scores by Ryan Grieve and Leo Thomson, VIDEO WORKS is an experience that is both otherworldly and grounded. The works will commence simultaneously and continue to loop in an ever-changing sequence of images and sound.
Kate Mitchell: All Auras Touch (Until 1st March 2020)
All Auras Touch presents just a glimpse of what contemporary Australia is all about in a vast array of colors. Taking the Australian and New Zealand Standard Classification of Occupations as the starting point, artist Kate Mitchell will photograph the aura of one representative for each of the 1023 officially recognized occupations. Captured using the Aura Camera 6000 – an 'electromagnetic field imaging camera' invented by American innovator Guy Coggins in the 1970s – each aura portrait will replace an occupation placeholder. As each job title is swapped out over the course of the exhibition, all auras touch.
The role of work is both subject and process in Mitchell's practice. Mitchell's art is her labor. Known for her often humorously staged action-based performance work and crowd participation, the artist tests the relationship between art and life as she collects and catalogs each participating sitter's aura. To complete the undertaking Mitchell must perform multiple roles: she encompasses the role of a conceptual artist, photographer, archivist, and counselor very well and methodically puts all these characters into practice. The first, which does not appear as one of the 1023 census occupations, officially exists as unrecognized labor.
In All Auras Touch Mitchell considers the relationship between what we do and who we are. A picturing of the sitter's 'psyche', the aura photograph, appears as an ethereal portrait awash in color and vigor. For Mitchell color is a means to connect what we feel as to perceive what we see Interested in interpretations of color, Mitchell uses aura photography as a visual device to conjure up the immaterial and often unseen/unrecognized. Through color, All Auras Touch questions how our work defines, expresses and connects us to a high standard of sub-conscious learning.
Privileging how we feel over what we do, the evolving installation makes each census occupation become indistinguishable from the other. Pixelated placeholders – an empirical representation of working Australia – are replaced by an empathetic imagining of the workforce. In an era where empathy is lacking in public discourse, All Auras Touch reminds us that we are all complex beings made up of the same matter.
Reko Rennie: REMEMBER ME (Until January 2021)
For almost two decades, Reko Rennie has made art that references his identity as a Kamilaroi man living and working in an urban environment. Working broadly across painting, sculpture, video, and installation and with a practice firmly grounded in the origins of street art and graffiti, Rennie's signature style is one of high-key color and complex composition. His finely tuned visual language adapts the shapes and symbols of his Kamilaroi culture with Australian colonial history, interwoven with text and camouflage patterning.
Commissioned by Carriageworks, REMEMBER ME is one of Rennie's most stripped-back, minimal installations to date. Spanning some 25 meters in length and 5 meters tall, this monumental work is both searing and tender. In the 250th year since Captain James Cook's first landfall at Kamay Botany Bay and the HMB Endeavour's charting of the east coast of Australia, Rennie has created a present-day memorial in recognition of the frontier wars, the massacres and the survival of the original sovereigns of this country – the Aboriginal people of Australia. He asks us to consider the personal impact of our past and how history is made today. This gives us an insight into indigenous culture and history in terms of the art which Rennie portrays.