09 Sep 2021
Fortis Adds $90m Tower Plan to Melbourne Pipeline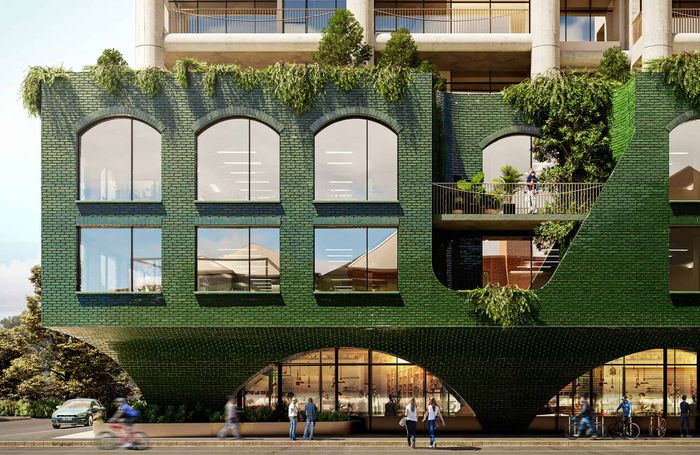 Fortis, a Sydney-based developer, has added to its booming Melbourne pipeline with proposals for a $90-million mixed-use complex in Richmond, which is currently before the council.
In late 2020, Fortis paid $19 million for a 1300sq m corner site at 8 Brighton Street, on the corner of Church and Swan streets.
Fortis director Charles Mellick said at the time that the developer was "confident" in city-fringe locations and that demand for office space in Melbourne will continue to rise post-pandemic.
Its most recent proposal, which combines commercial and residential uses, has strengthened that belief.
SJB Architects designed Fortis' proposed 13-story development, which will have 70 apartments atop 2100 square metres of business space.
Above four levels of basement parking for 100 cars and 80 bicycles, the mixed-use building will have 400 square metres of ground floor retail for a cafe or restaurant.
Despite the current downturn in Melbourne's office market, Richmond, along with Cremorne, Collingwood, and South Yarra, remains one of the more affordable inner-suburban office areas.
Prior to the pandemic, the suburb saw a resurgence of speculative commercial development as CBD rents skyrocketed and vacancy rates fell to new lows.
Developer Little Projects has plans for 300 flats in a 10-story structure on a nearby property, 1 Little Lesney Street.
The council is considering designs for a six-story structure at 223 Swan Street and an eight-story building at 300-304 Swan Street.
In recent years, Fortis, the development arm of boutique fund manager Pallas Capital, has made a serious push into Melbourne, with over $1 billion in projects now under construction or in the planning stages.
The developer's application in Richmond comes less than a week after submitting designs for a $65 million commercial building on a $5 million plot in South Melbourne.
The developer is also erecting a $38 million, nine-level office complex nearby, at 67-69 Palmerston Crescent, on a property it purchased earlier this year for $8.55 million.
Meanwhile, plans for a six-story office building on Thomson Street, with an estimated end value of $27.5 million, are well advanced.
Fortis is also moving on with a $47 million, seven-story, 3900 square metre office building at 34 Eastern Road, which it purchased for $12 million in July.
In Cremorne, the developer has announced intentions to start building on a $40 million new build on a $26.9 million site at 65-81 Dover Street later this year.
It will contain eight levels of office space, as well as shops on the ground floor, and is expected to be worth around $130 million when completed.