02 Feb 2020
First major infrastructure completed for Western Sydney Airport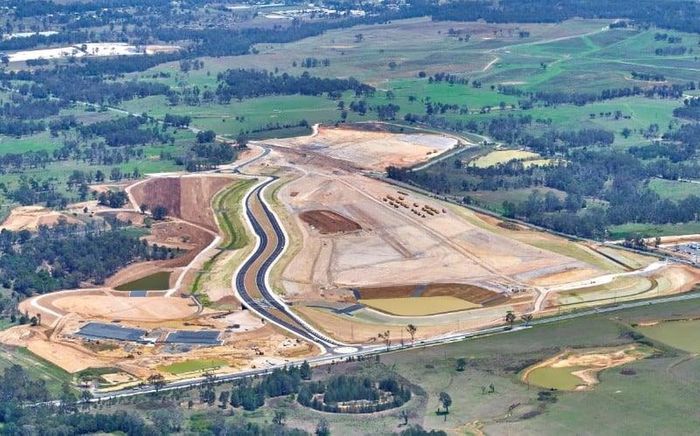 A new bridge, practically as wide as the Sydney Harbour Bridge, is now ready for traffic as the first phase of construction on the airport wraps up.
The bridge was built with the intention of being a part of initial earthworks on the airport site. This involved the realignment of 1.6km of Badgerys Creek Road, along with a new shared footpath for cyclists and pedestrians, and construction of a new intersection at Elizabeth Drive.
The realignment is intended to allow for the new M12 Motorway and Sydney Metro Greater West, which will connect to the airport site. Badgerys Creek Road will be an entry point to the airport when it opens in 2026.
Western Sydney Airport Chief Executive Officer, Graham Millett, said it was an exciting time for the airport, with initial earthworks almost complete and part of the site officially opening to road users.
"Technically we've built two bridges, one north bound and one south bound, both 39m long and with a combined width of 49m – around the same width as Sydney's Harbour Bridge," Mr Millett said.
"Constructing the bridge was no mean feat – it's built on 21 mammoth 45-tonne girders manufactured with almost 900 tonnes of concrete. Around 20,000 tonnes of asphalt has been laid along the new road along with 116 new street lights being installed.
"As with most road works, there have been traffic changes for motorists and we thank them for their ongoing patience while this work takes place."
Initial earthworks cover just six percent of the 1,780-hectare airport site and involve moving 1.8 million cubic meters of earth. Major earthworks will commence in early 2020 and will involve moving more than 23 million cubic meters of earth to make way for the construction of the airport terminal and runway.
Western Sydney International Airport will officially open in the summer of 2026 initially catering for up to ten million international and domestic passengers per year.
Motorists should check for temporary closures and detours as the works are finalised closer to the date. The Western Sydney International Airport is being delivered through a $5.3 billion Federal Government investment.
Minister for Population, Cities and Urban Infrastructure, Alan Tudge, said realigning the road was a significant technical achievement.
"It's an important and essential part of the early earthworks in the airport's seven-year construction," Mr Tudge said.
"It also signals that early earthworks are nearly complete and Western Sydney International will soon move into the next phase of construction."
Senator for Western Sydney, Marise Payne, said the project was part of a broader overhaul of road infrastructure across Western Sydney.
"The Badgerys Creek Road project, which included the provision of a new bridge, a shared footpath and new intersection at Elizabeth Drive, is a lynchpin around which other key projects, such as the Northern Road upgrade, revolve," Ms Payne said.
Its completion is a critical step forward in preparing the region's road network for Western Sydney International, in addition to providing a better experience for local commuters.
Source: infrastructuremagazine.com.au