24 Mar 2022
First Look - Concept Proposal for Sydney's Woolloomooloo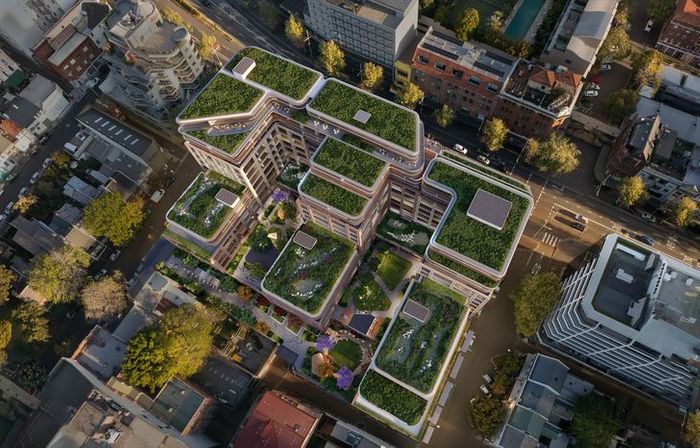 FJMT has designed a mixed-use development idea for Williams Street in Woolloomooloo, Sydney.
The skyscraper will mostly house residential flats, although it will also have retail, food, and beverage establishments.
Two large communal courtyards with solar access, terraced roof gardens, and a publicly accessible through-site link between Dowling and Forbes streets and Judge Lane are also included in the proposal. The landscape design for the concept proposal was prepared by Ground Link Landscape Architects. "These links will be open to the sky and activated by vibrant retail spaces with passive surveillance," the designers said in planning documents.
The concept proposal's building envelopes are the subject of a development application submitted to the City of Sydney. The building's height will be reduced from 35 metres on Williams Street to 22 metres on the northern side facing the laneway.
"The proposed development is orientated towards the north which not only offers excellent solar access but also affords the building and its occupants extensive views towards the opera house, harbour bridge, the domain and Wolloomolloo finger wharf," the architects said in planning documents. "The proposal will revitalise an important precinct within the local area.
"[The] provision of a generous quantum of retail, food and beverage and other employment uses that will activate the key street frontages [and] enhance the night-time economy.
"Although the articulation of the building form will be addressed in a future submission, the proposal demonstrates the potential to significantly enhance the aesthetics of the existing building and its contribution to the urban character of William Street."