19 Aug 2021
Edith Cowan University Unveils New City Campus Design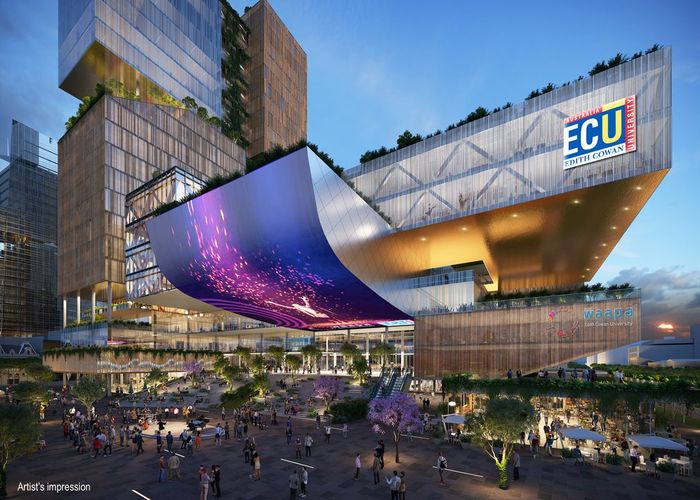 Edith Cowan University's proposed Perth city campus design, which was unveiled on Sunday 15 August, will "totally break traditional assumptions," according to vice-chancellor Steve Chapman of the university.
The campus, which would span Karak Walk and be designed by Lyons, Silver Thomas Hanley, and UK company Haworth Tompkins, will be spread across two sites opposite Yagan Square.
"We have a clear vision and ambition for Western Australia's first comprehensive city campus, and that is to deliver a remarkable university as well as a landmark for Perth's CBD," Chapman said.
The campus will combine the university's Western Australian Academy of Performing Arts with creative industries, business, and technology disciplines (WAAPA).
"The campus will be purposefully embedded with industry and connect the commercial, cultural and entertainment precincts of Perth, and is designed to project life, energy, and opportunity into the heart of our city. Its proximity to industry is a game-changer for engagement and partnership with business," Chapman said.
With an immersive gateway that envelops the Perth Busport, the campus will be open to William Street Mall and Yagan Square. Along with dynamic streetscapes and laneways that connect to Roe, Queen, and Wellington Streets, a digital media façade will add liveliness.
"Students, staff and visitors will be treated to a sensory experience from the moment they step in. It will be like nothing they have ever known," Chapman said.
"ECU City's design, both physically and symbolically, reaches outwards, with a strong visual connection to its surrounds. It will be a university on show - inviting people to connect and be involved with what is occurring within."
The ECU city campus is the centrepiece of the $1.5 billion Perth City Deal. The $695 million project is funded with $245 million from federal government, $150 million state government and $300 million from ECU.
"This is part of a once-in-a-lifetime transformation of our city centre, and will grow Perth's reputation as an innovative and vibrant city," said WA premier Mark McGowan.
"The economic impact of the development will also be significant," said federal minister for cities Paul Fletcher, "with the project supporting over 3,000 jobs during construction and providing an estimated $1.5 billion boost to the WA economy over the next four years."
In August, a development application will be submitted, with early construction set to begin in 2021. When it opens in 2025, the campus will be able to house more than 9,000 pupils.