07 Sep 2023
Deswik Software Optimises Construction Workflows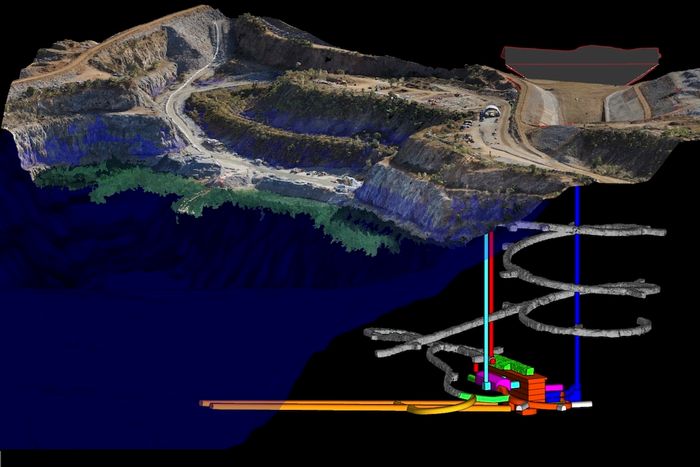 With the use of Deswik software, the McConnell Dowell John Holland Joint Venture has brought tangible benefits to the Kidston Pumped Storage Hydro Project, reportedly the first pumped storage hydro project in Australia for over 40 years.

Deswik is improving construction outcomes and site productivity through practical and cutting-edge digital workflows, as evidenced by its recent partnership for the Kidston Pumped Storage Hydro Project in Far North Queensland.
In early 2022, Deswik was engaged by the McConnell Dowell John Holland Joint Venture (MDJH JV) to visualise and review the existing P6 schedule for the project, said to be the first pumped storage hydro project developed by the private sector and the third largest electricity storage device in the country – and the results have been staggering.
John Holland deputy project director Peter Gaylard works directly with Deswik software on the Kidston Pumped Storage Hydro Project. His role is to oversee all design and construction activities associated with the powerhouse and the supporting infrastructure such as access tunnels, the upper reservoir and embankment dam.
McConnell Dowell project engineer – underground Jean-Luc Lejeune is also working directly with Deswik on the project, implementing the design in the underground phase, from the excavation of the powerhouse and the transformer hall to the construction of the access tunnels.
Both Gaylard and Lejeune concur that Deswik has been a crucial element to the project's ongoing success.
"We engaged Deswik in early 2022 to visualise and review the project P6 schedule as on a site level we got to a stage where we didn't have a firm grasp of our point in space in three dimensions," says Lejeune. "Conceptually from design, we had our 2D drawings and alignment, but we didn't have a robust system that provided a visual of where we were in the project versus where we were going."
"Deswik brought the project to life in four-dimensions, the fourth dimension being time, and it was beneficial for the site team to see it play out in 3D."
It helps the entire team visualise where the project is going, says Lejeune, and identify any efficiencies or excess resources being over-deployed in certain areas.
The outcome of this initial review was the project team found opportunities and risks and were able to optimise resources to improve the project plan.
Using Deswik's schedule generation technology the project team is able to generate 90 per cent of the detailed schedule with the click of a button, allowing it to run numerous scenarios and thus develop an optimised schedule.
With the project being delivered by a 24/7 onsite operation, Deswik's advanced 3D design/computer aided design (CAD) tools are also being used by the contractor to optimise the design based on unexpected site conditions found during construction. "For any changes, or updates to the project's design, we have to engage the design joint venture, which is a joint venture between GHD and Mott MacDonald," says Lejeune. "They work standard business hours (Monday to Friday), so for us to get any new design across the line it helps if we produce a tangible solution beforehand."
"The power of Deswik is that it provides the team onsite the tools to start that design of a robust alternative and get it somewhere tangible – we can work through the weekend and approach the design joint venture team on Monday morning with a tangible, workable solution."
This accelerates the request for information (RFI) and decision-making process significantly, leading to substantial savings. Using the onsite project team's optimised design solution, the joint venture design team built and issued for construction (IFC) designs in two to three days, a process that otherwise can take many weeks.
For Gaylard, he says Deswik allows the project team to better explain what they're doing. "It has enabled us to go to management and to both joint venture companies, as well as the client, with a 3D visualisation that they can comprehensively understand," says Gaylard.
"Sketches and two-dimensional drawings just don't have that same effect and a 3D model through a traditional design process can take at least a month, if not longer to produce."
Deswik's survey tools are now also being adopted by the project team to automate progress updates and reschedule and reforecast the project on an ongoing basis. By using Deswik's integrated CAD and scheduling tools, Gaylard says this leads to a more efficient and robust process. "The software also handles solids very well," Gaylard adds. "Deswik is interchangeable with file format, so it speaks with our survey software."
"We're able to take survey data and import it straight into Deswik to create solids, which gives us our point in space – it's an extremely user-friendly and intuitive technology."
Further to the substantial benefits of the software, Gaylard and Lejeune say they are impressed with the support they continue to receive from the Deswik team. "Deswik has been very responsive, accommodating and has worked with us towards solutions," says Lejeune. "They helped me a lot when I was starting out, providing training sessions and would always be happy to dial into a quick video meeting to explain any processes."
Originally developed as a mining software, Deswik continues to modify its tools and workflow for the infrastructure industry. Deswik's infrastructure and construction manager Pieter Rautenbach and principal mining consultant Pat Banks are leading the charge to take the breakthroughs the company has had in the mining industry to the infrastructure and construction industries.
Rautenbach says the company's partnership with the MDJH JV Kidston Pumped Storage Hydro Project is a great example of how Deswik software can optimise the design and construction of infrastructure projects. "The software is being successfully adopted by project teams across roads, windfarms, tunnels, pumped hydro, rail and mass earthworks projects," says Rautenbach. "For the MDJH JV, the use of Deswik has grown from initially being used as a review tool, to being used for design, scheduling, quantity calculations and in the survey process."
"We started off providing the project team with the initial service of reviewing the project schedule, and now we're seeing the team use Deswik daily to optimise design and resources to save costs associated with mobilisation and demobilisation times."
Essentially, adds Banks, having an integrated digital model like Deswik that connects the 3D solids and the schedule in the same application – meaning project teams don't have to rely on manual data transfer between packages – is a considerable project streamlining power.
The construction industry is a tough environment and streamlining processes is becoming increasingly important to project success. The many processes in construction and infrastructure are quite siloed, Rautenbach explains.
"For instance, the survey team delivers the quantities, the engineers do the planning, and the scheduler completes the scheduling, and all use different tools and processes," he says. "In Deswik we have integrated these processes, so it's not just about the software but it's also about the process."
"When you're generating a schedule in Deswik, you're using the quantities from the CAD model directly, so you're less likely to make mistakes and granular information such as quantities and material types by chainage is readily accessible."
Deswik uses rules and technology to automate the generation of processes. On an infrastructure project for example, it could take weeks for a project team to develop a 20,000-line item schedule manually. Whereas in Deswik, Rautenbach explains, because the schedule is generated by Deswik software based on user inputs and sequencing rules, it can generate those schedules in minutes once set up.
Backed by the ongoing success of MDJH JV's use of Deswik software on the Kidston Pumped Storage Hydro Project, along with the glowing reviews from the project's Peter Gaylard and Jean-Luc Lejeune, Deswik is poised to continue making strides in the infrastructure and construction sectors.
Source: Inside Construction
---
Attend Digital Construction Australia, Australia's Largest Digital Construction Exhibition. Gain access to 10 conference stages and networking sessions, check out 400+ exhibitors, learn from 500+ high-profile speakers and connect with 35,000+ built environment professionals.