20 Mar 2023
Deicorp Plots 55-Storey Sydney CBD Skyscraper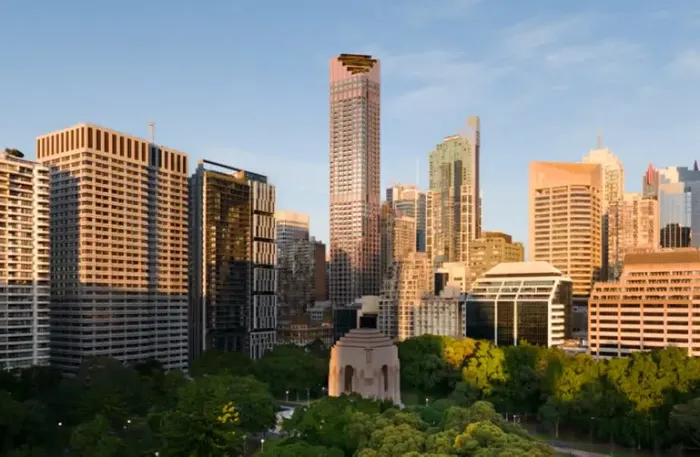 Plans for a skyscraper on Sydney's Liverpool Street have been submitted by developer Deicorp.
The City of Sydney council has renotified the public of the intentions for Deicorp's Hyde Metropolitan project on the 1597 square metre property at 133-141 Liverpool Street.
The Catholic Archdiocese, a tenant in the existing structure, sold the Polding Centre site to Deicorp in October 2021 for an unknown sum.The location, next to Hyde Park in the City, was a no-brainer, according to Robert Furolo, executive manager of corporate communications at Deicorp.
"The site for the Hyde Metropolitan project delivers a rare combination of park-side sophistication, CBD vibrancy and proximity to the emerging tech-central precinct," Furolo said.
"These attributes helped inform our name for the project, paying respect to the historic Hyde Park precinct while acknowledging the cool vibe of its central CBD location."
The underground buildings will be demolished as part of Deicorp's plans, and a 55-story tower with a platform will be built in their place.
The new designs were created by architects Candalepas Associates after they collaborated with the archdiocese on an earlier proposal.
"The City of Sydney design competition selected a building for this project that absolutely captures the opportunities the site represents," Furolo said.
"Extraordinary harbour and park views combine with the timeless elegance of the Candalepas-designed building to make this project a true one-of-a-kind."
According to the designs, there will be 168 apartments above five floors of podium-level commercial and retail space, eight basement levels, and a total of 19,836 square metres of residential gross floor area.
"The combination of luxury materials, clever wintergardens, generous and airy spaces with floor to ceiling windows ensure residents will have a truly exceptional home," Furolo said.
Retail will occupy 302 square metres, with a commercial gross floor area of 3965 square metres.
A total of 137 parking places for cars, 18 motorcycle parking spaces, and 109 bicycle spaces are planned for the basement floors.
The Castlereagh Street entrance for vehicles would be used, and strata subdivision and lot consolidation are also planned.
According to council records, the construction's estimated cost was $169.8 million.
Before approval for a $230 million construction was given, the archdiocese had submitted an application for a residential project up to 70 stories in 2018.
Smith The Commonwealth Bank's electronic data centre was housed in the Polding Centre building, which Jess Payne & Hunt designed and finished in 1977. Although being surrounded by several heritage-listed structures, the Polding Center does not have a heritage listing.
The City of Sydney will also want a report from Water NSW after it has evaluated the plans in the incorporated document.
Sydney Metro expressed some worries about the effects of acoustic vibrations, noise, and stress during construction as the subterranean tunnels are nearby, according to publicly available council papers.
---
Attend Sydney Build Expo, the largest construction, architecture and infrastructure show in Australia. Gain access to 9 conference stages and networking sessions, check out 400+ exhibitors, learn from 450+ high-profile speakers and connect with 20,000+ built environment professionals.