19 Jul 2019
Craving Construction: Rising Demand for Australian building and construction jobs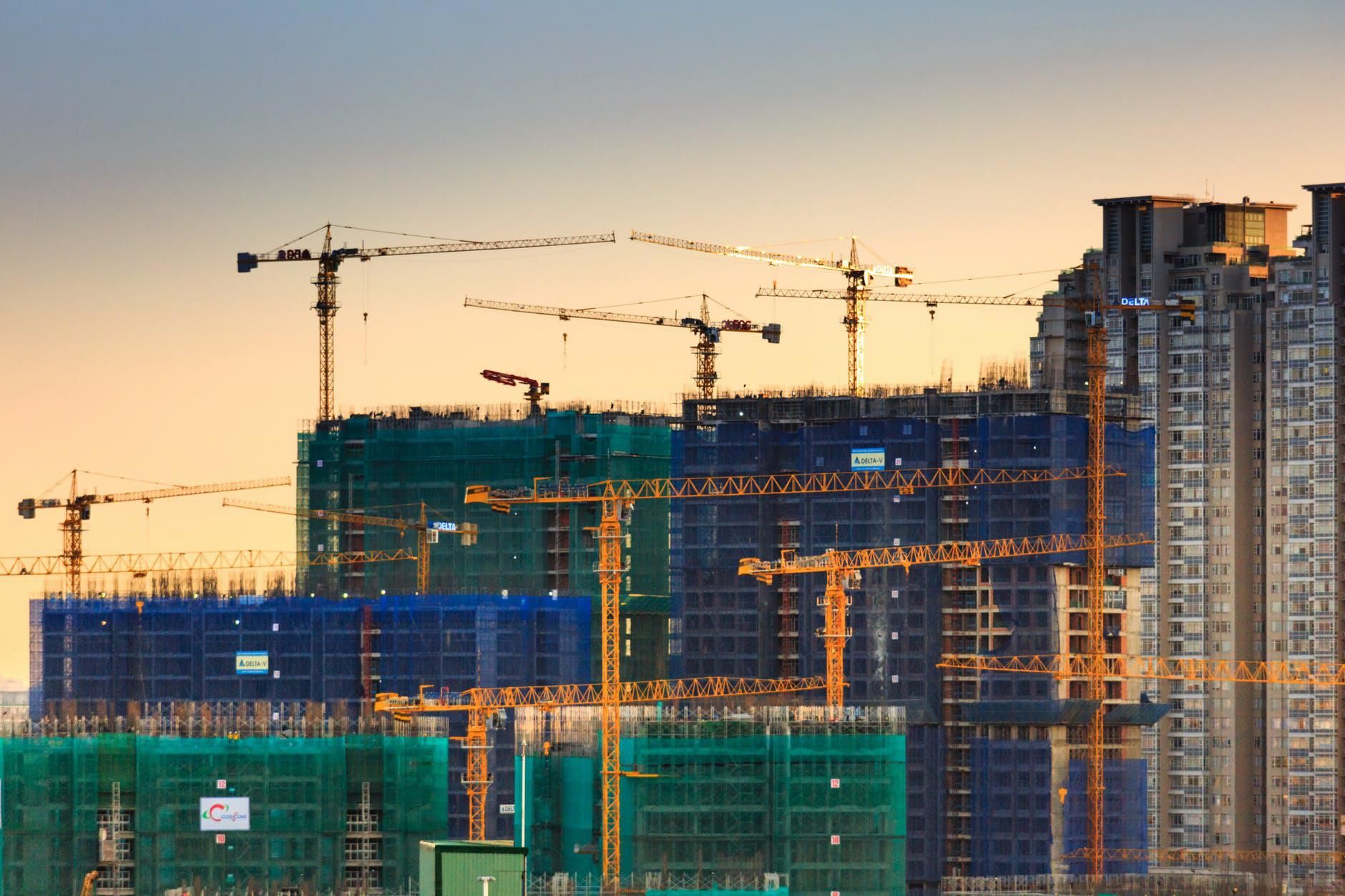 Introduction:
Despite looming fears of a building crisis and current talks being conducted over the need for massive reforms over construction processes, contract administrators, project managers, site engineers, and other construction industry professions are becoming highly sought after following a surge in construction-related projects. Employment within the Australian building sector saw more than 30,000 positions added (seasonally adjusted) over the past quarter.
Data collected by the Australian Bureau of Statistics point to an increase in the total number of people employed either part-time or full-time within Australia's construction sector. Figures indicate that 30,800 entrants have contributed to the industry's growth from 1.147 million registered workers in February to 1.179 million in May.
This statistic is the second-highest level of record and in comparison with the same period of last year represents a substantial increase of 6,700 jobs. Construction services lead the way accounting for over 753,200 jobs of which 16,500 had been added over the past year and 67,300 created within the past three years.
Heavy industries, Civil construction and building construction-related jobs have also experienced considerable rises in employment level figures. Amassing a total headcount of 114,600, heavy industry and civil construction employment has shrunk by 6,500 over the past year but experienced an overall increase of 30,500 over the past two years. Likewise, building construction employment has fallen by 4,700 workers within the last year but remains at a 30,300 employment high for the last two years.
Fuel to the fire:
This boom in construction demand was ignited by a flurry of infrastructure jobs and building development plans situated in areas of New South Wales, Southern Australia and Victoria.
These construction employment facts and figures come amidst external reports from recruitment specialist firm Hays that suggest that a substantial portion of construction professionals are currently in short supply.
Across Australia, the construction sector employment boom has been cultivated by historically elevated levels of work, near-record levels of home building and multi-residential construction activity, and record levels of investment in road and rail infrastructure projects; therefore, civil infrastructure employment prospects are expected to strengthen further in the coming years as a massive pipeline of proposed projects will keep the nation's construction industry busy.
"This vacancy activity will be focused on Australia's booming civil infrastructure market thanks to a growing population and large-scale, long-term publicly funded infrastructure projects." - Hays report.
On the other hand, housing projects have slowed due to conditions on the ground remaining busy at the moment while notwithstanding the pace at which new work is coming. Although March figures cited a total of 216,551 dwellings were under construction, this was down from the 2018 peak of 231,416 but remains well above levels reported prior to the current housing boom. The report's findings concluded that it expects vacancy activity and professional demand to remain strong during the final stretch of 2019. Moreover, surveys conducted by the Hays Salary Guide also found that 47% of construction employers say they intend to increase their staffing levels during 2019/20.
"While residential construction has declined, and the industry is shifting from high-rise residential to infrastructure and commercial, an ongoing skill shortage, population growth and low unemployment will ensure we still see some home building activity and therefore jobs… For the second half of 2019, construction vacancy activity will, therefore, remain positive, although the hotspots of skills in demand do vary by location." - Hays Report
A breakdown of the skills in demand across the Australian construction industry can be seen below:
New South Wales
Skilled Supervisors, Project Engineers and Estimators with experience in tunnelling, roads and rail projects will remain in demand in Sydney. There is a general shortage of candidates with the required tenure to satisfy demand.
Sales Estimators who can price or write tenders for project homes are required.

A shortage of Production Estimators who can accurately estimate the required materials and labour is also evident.
Contract Administrators, Project Engineers and Site Managers with experience in large health, institutional and commercial projects are sought.
Contract Administrators with fit-out experience are needed too as existing office space across Sydney is refurbished.
Structures Forepersons are also sought. With no slowdown in large tier two projects in sight, such candidates are in short supply.
Pre-Construction Officers are in short supply too since few administrators possess the necessary technical DA/CDC knowledge and understand council requirements.
The Newcastle and Hunter Valley region continues to see increased demand for Contract Administrators with experience in both residential and commercial building due to the volume of developments across the region.
Estimators are needed too for both residential and high-value commercial projects.
Candidates with high-rise residential experience are also sought given the volume of high-rise residential developments underway in Newcastle and Gosford.
Project Managers with commercial building experience on projects between $20m and $50m are in high demand too due to an increase in these projects across Newcastle and the Hunter.
Victoria:
Victoria's construction market remains active. Infrastructure is driving vacancy activity with projects such as the Melbourne Metro Rail requiring staff, while the commercial construction sector has picked up.
As a result, construction professionals at all levels are in demand, from high-level Design Engineers to experienced Delivery Engineers on roads, tunnels, bridges and rail.
Construction Engineers with rail and road experience are also required given current project activity.
Experienced Contract Administrators, Design Managers and Site Managers in civil infrastructure and the commercial market are also sought.
The construction building industry is very healthy, particularly in education and health. All construction skills are in demand, from Site Forepersons to Project Engineers and Project Managers.
Queensland:
Queensland's construction jobs market will be active in this financial year. Our jobs report covers civil construction, rail, the commercial sector & residential. Read on for more insight into the market trends.
Looking firstly at civil construction, candidates with Transport and Main Roads (TMR) experience are in growing demand in Queensland as companies act to fulfil their tender requirements. In particular demand are Project Managers with 10 years of experience, Site Engineers with at least two years of experience and Project Engineers with at least five years of experience on TMR projects. Add federally funded major projects across the region, such as the Bruce Highway update (CR2SM) and the Logan Enhancement Project, and demand for these candidates remains high this half.
Rail is another active area. South East Queensland has lost some civil professionals to Sydney's Metro project, but with three Queensland-based rail projects planned (Inland Rail, Cross River Rail and Brisbane Metro) the supply of experienced candidates fail to meet demand.
South East Queensland's solid project pipeline is fuelling high demand for Contract Administrators too.
In the commercial market, Site Managers with experience working on $20m+ projects and Project Managers and Directors who have worked on $100m+ projects are in short supply.
Commercial Estimators are also sought. With a growing number of high-value projects underway or soon to commence, such as Queens Wharf Brisbane, the Gabba stadium upgrade, Brisbane Live entertainment precinct, the Redevelopment of Brisbane's Cultural Precinct and multiple train station upgrades, demand will remain high.
Turning to the residential market, insurance builders continue to look for strong Site Supervisors and Estimators.
Residential architectural and small lot Supervisors will be another area of demand as Brisbane's CBD and inner suburbs continue to grow. With a shortage of land, knockdown and rebuild projects are popular. Adding to demand is the active Sunshine Coast market, which has peaked with major land developments underway.
As always, experienced Estimators with at least seven years of experience and a trade background are highly sought after across all types of construction in South East Queensland.
From a trade perspective, Carpenters remain in demand, particularly those with high-end fit-out experience.
HVAC Technicians are needed, but there is a pay gap between local and interstate rates. With candidates able to earn higher rates in NSW and Victoria, there is a shortage of candidates for Queensland roles.
South Australia:
Adelaide's civil construction market will remain strong this half and into 2020, with several large-scale projects creating demand for Project Managers, Site Managers and Civil Estimators.
Civil Contract Administrators are needed too, but there is a shortage of available and strong candidates who want to remain in the role long-term.
Several government-funded infrastructure projects are or will soon enter the delivery phase, which will impact the market.
Meanwhile, commercial construction has improved in South Australia with high confidence fuelling demand for Project Managers, Contract Administrators and Estimators with proven commercial experience. Adding to demand is the high number of Commercial Estimators who relocated interstate several years ago and have not returned.
In residential construction, demand exists for Site Supervisors and Project Managers with medium density experience. Residential Estimators are also required.
Western Australia:
In Western Australia, construction (and engineering) skill shortages will continue to intensify in response to Metronet and major mining projects.
Within civil construction, demand is high for candidates with a rail background who can work on the Metronet project.
Project Engineers with solid experience are highly sought after but are being retained by tier 1 and 2 employers.
Civil Construction Project Managers and Supervisors are also required, with the supply of strong candidates failing to meet demand.
Contract Administrators and Estimators within electrical, mechanical services and commercial construction will remain in demand. Civil Engineers at the intermediate level are in short supply too.
Perth's active commercial sector will create demand for Project and Construction Managers.
Demand has also started to rise for Mechanical Engineers and Site Managers with commercial construction backgrounds to work on the hotel, apartment, large-scale shopping centres and mixed-use building projects.
There is also a demand for candidates with correctional and aged care project experience.
Tasmania:
In Tasmania, strong economic growth coupled with heightened investment in infrastructure, renewables and accommodation developments ensures ongoing high demand, particularly for Project Managers and Contract Administrators.
Darwin's construction market is experiencing a downturn with several key projects coming to an end.
As we saw last half, the Northern Territory will continue to face a general shortage of skilled construction candidates for local and remote roles, including Project Managers and Site Managers for defence lead roles.
Australian Capital Territory:
Within Canberra, continuing staffing shortages are evident.
In greatest demand are Project Managers with large-scale commercial experience and Site Managers, Project Engineers and Contract Administrators for health, education and infrastructure projects.
Interested in up and coming infrastructure projects in Australia? Check out the Future of Construction summits taking place during the Sydney Build Expo 2020!